In the current digital era, businesses primarily rely on cloud-based solutions to store and handle sensitive data. However, this has created additional security issues since cloud-based cyber-attacks may not be adequately protected by conventional security methods. Companies are using Cloud Access Security Brokers (CASBs) as a way to secure cloud usage and safeguard critical data to deal with this issue.
What Is CASB?
A Cloud Access Security Broker (CASB) is a security solution that sits between an organization's on-premises infrastructure and cloud-based applications. Its primary role is to secure and manage access to cloud services, ensuring that cloud usage is in line with the organization's security policies and regulatory requirements. With the help of a CASB, businesses can monitor and manage cloud activities, including the sort of data being accessed, who is accessing it, and from where. This gives businesses insight and control over their use of the cloud. This aids businesses in recognizing and averting potential security risks like data theft, breaches, and other cyberattacks.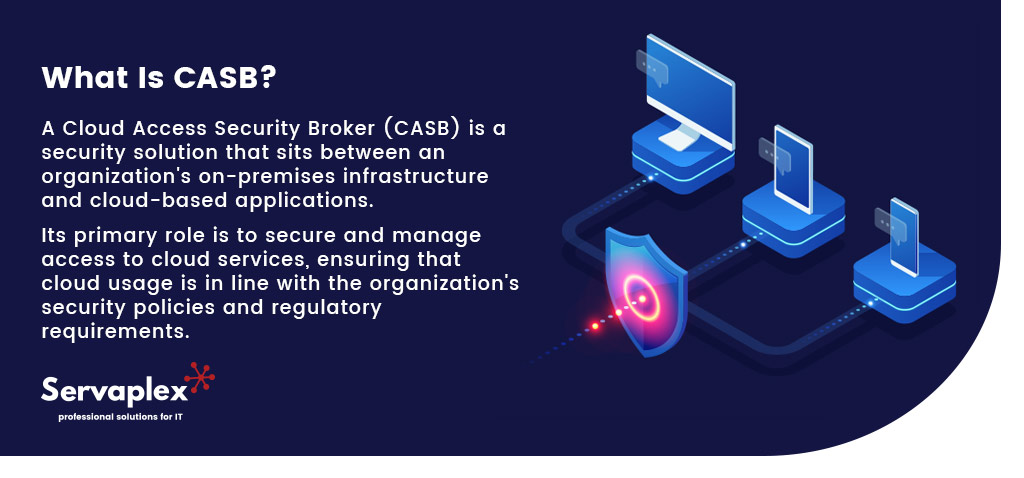 CASB and Log360
A second layer of protection for cloud-based systems is added by the integration of CASBs with Log360, a complete security information and event management (SIEM) solution. Organizations can identify and stop possible security risks, maintain compliance with security and regulatory requirements, and have complete visibility and control over their cloud usage by employing Log 360 and a CASB.
How Log 360 and CASBs Safeguard Cloud Environments
The following describes how Log 360 and CASBs collaborate to safeguard cloud environments.
Threat Detection and Prevention: Log 360 uses the information gathered by the CASB to quickly identify and stop cyber security risks. To recognize and stop illegal acts like data theft, data breaches, and other forms of cyberattacks, the system makes use of cutting-edge threat detection algorithms and machine learning. Organizations are also given real-time warnings and notifications by Log 360, enabling them to take immediate action in the event of a security threat. This aids businesses in preventing data loss and reducing the effects of cyberattacks.
Cloud Usage Visibility: By integrating with a CASB, Log 360 gives businesses a thorough understanding of how they use the cloud. This enables businesses to keep an eye on all cloud activity, including the data being accessed and from where. With the use of this data, businesses may spot and keep an eye on any unexpected or unwanted cloud activities, including a lot of data access or illicit downloads. This aids businesses in ensuring that their cloud usage is safe and adheres to their security guidelines.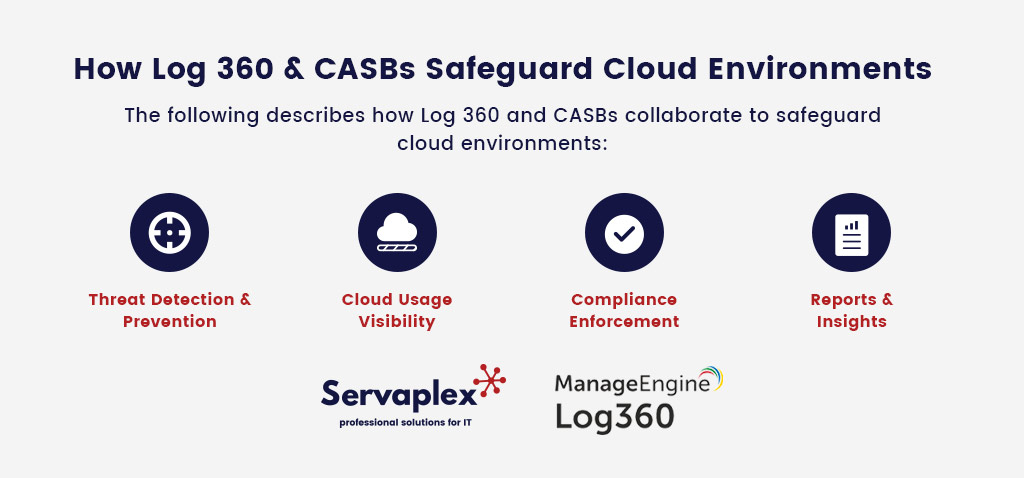 Compliance Enforcement: Organizations can make sure that their cloud usage complies with security and regulatory standards by using Log 360 and a CASB. This entails abiding by data privacy laws like the GDPR and avoiding data breaches. To enforce security regulations and keep track of compliance with cloud usage, Log 360 connects with a CASB. This aids businesses in avoiding potential financial and legal fines for noncompliance.
Reports and Insights: Log 360 offer's thorough reports and insights about cloud usage and security, allowing businesses to monitor their progress and take wise decisions. As a result of the solution's ability to produce personalized alerts and notifications, businesses can react swiftly to security issues. Additionally, Log 360 offers businesses real-time perceptions into patterns and trends in cloud usage, assisting them in determining where they can strengthen their security posture. Organizations can improve their security posture and foresee potential security threats by using these insights to inform their decisions.
Why Cybersecurity is Important for Companies
At this juncture it's crucial to talk about why cybersecurity is important for the success of your business. Cybersecurity is crucial for businesses because it helps to safeguard sensitive data, guarantee business continuity, uphold reputation and trust, comply with regulations, and protect intellectual property. Organizations may reduce the risk of cyber-attacks and guarantee the protection and privacy of their critical data by investing in cybersecurity solutions.
Complete Cloud Based Security Solution
For a complete security solution for their cloud-based systems, enterprises can use Log 360 from ManageEngine and a CASB. Organizations can safeguard their use of cloud services, find, and stop possible security risks, and guarantee compliance with security and regulatory requirements by combining Log 360's superior threat detection and prevention capabilities with the visibility and control offered by a CASB. This enables businesses to use cloud solutions' advantages while still protecting their sensitive data with the greatest levels of security. Log360 also integrates with the Mitre Corporation security framework for added security.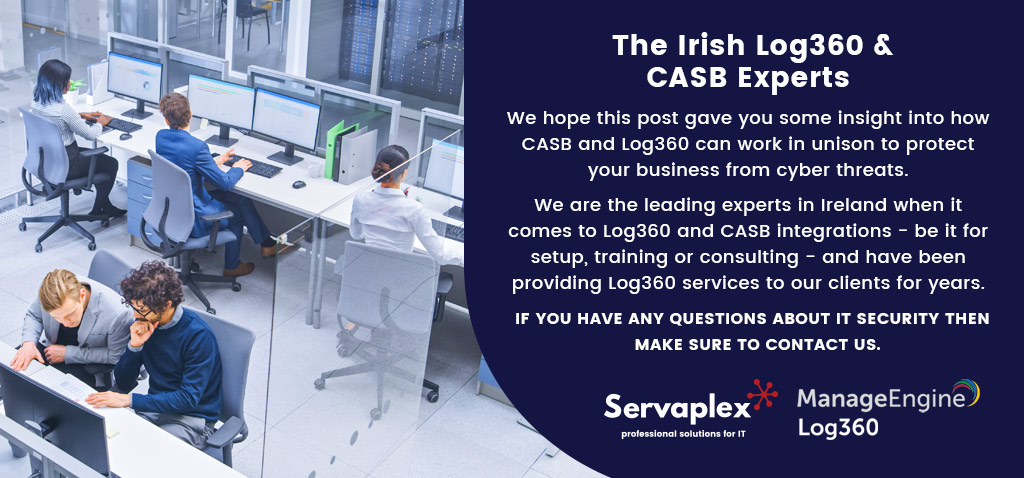 The Irish Log360 & CASB Experts
We hope this post gave you some insight into how CASB and Log360 can work in unison to protect your business from cyber threats. We are the leading experts in Ireland when it comes to Log360 and CASB integrations – be it for setup, training or consulting – and have been providing Log360 services to our clients for years. If you have any questions about IT Security then make sure to contact us.
If you have an IT Problem then we've got the IT Solution, call us on +353-1-2304242 or contact us online for more info!