Other IT Solutions
• ZetaFax – Fax Server Software 
• Performance 
• DymaxIO
• Undelete
• V-locity
• Power Management 
• PwrSmart
• Netsupport DNA
• Desktop Central
• Backup & High Availability
• RecoveryManager
• Carbonite

Zetafax is our award-winning fax server software that delivers secure, fast and cost effective document distribution.
Simple to install, easy to manage and highly reliable, Equity's has a proven track record in providing businesses with complete fax server solutions that generate real cost savings whilst streamlining their business processes.
This is why Zetafax has been the proven choice of fax server for over 65,000 customers worldwide.
Benefits Of Fax Server Software Zetafax
Time and expense savings with electronic document delivery in place of paper

Reduction in costs through:

Automation of manual processes
Lower call charges using Fax over Internet Protocol (FoIP) and support for SIP trunks
Support for server virtualization
Zetafax Online, a hybrid hosted solution

Increased efficiency from integrated faxing from existing applications such as Word and Outlook

Quick retrieval of sent and received documents using automatic fax archiving

Support for the latest technologies, including Fax over Internet Protocol (FoIP) and virtualization

Integration of fax with other applications quickly and easily via an Automation Toolkit
Features Of Fax Server Software Zetafax
Faxing with Office 365: The Zetafax Exchange Online Connector provides full support for Office 365 email. Users can send and receive faxes directly in Outlook, just like email.

Fax over IP: Zetafax supports your Voice over IP (VoIP) telephone system (or IP-PBX) and SIP trunking

Server Virtualization: The Zetafax fax server software can be installed on virtualized servers running VMware (ESX and ESXi), vSphere Suite or Microsoft Hyper-V.

DymaxIO is fast data performance software. You simply install it on your troublesome Windows servers and DymaxIO gets to work boosting performance and reliability – automatically and quietly in the background. It's really that easy.
Software for high performance in virtual and physical environments.
DymaxIO is fast data performance software. You simply install it on your troublesome Windows servers and DymaxIO gets to work boosting performance and reliability – automatically and quietly in the background. It's really that easy.
Fact #1: Windows suffers from severe I/O inefficiencies that dampen overall performance.
Fact #2: Windows is still Windows whether running in the cloud, on hyperconverged systems, all-flash storage, or all three.
DymaxIO intelligently eliminates performance-robbing I/O inefficiencies by addressing the root cause problem – returning 40%+ of your "stolen" throughput. Performance and reliability soar.
Blazing Performance – Automatically: Fixes performance problems, such as application slows and freezes, at the source. No tuning required.

Improved Latency & Throughput: See a 30%+ improvement, increasing the efficiency of your infrastructure and that of your users.

Extend Hardware Lifecycle: Sweat your assets longer, don't overspend on expensive new hardware.

Reduced Timeouts & Crashes: Keep your systems running smooth and efficiently, putting an end to trouble-calls

Double VDI Density: 2X the number of VDI clients in your environment overnight.

Save $ on Cloud Compute Costs: Improves IOPS, Data transfer, & Latency allowing a reduction in Cloud instance costs.

Help! I just deleted a file from the network drive!" That's a support call any IT professional knows all too well. Recovering that file from backup can be a support pain, even if the user knows the exact name and location of the file, and precisely when it was deleted. Without that information, it can be a nightmare.
Undelete recovers deleted files instantly.
Recovers Deleted Files Instantly: Enables easy recovery of deleted and overwritten local and network files.

Continuous Protection: Provides continuous data protection for Windows PCs and servers.

Recover Overwritten Files: Recovers previous or overwritten versions of Word, Excel, PowerPoint CAD, Photoshop and other files.

Security: Protection from potential security risks when Recovery Bin is stored in the cloud.

Allows Self-Service Recovery: Allows self-service recovery, relieving IT from this task.

Instant Virtual Recovery: Instantly recovers files in virtual environments.
Undelete protects all files including network-share, command line, and application files for instant recovery.

Lost files and folders can be quickly recovered without going to backup media.

Every deleted file, or a previous version of a file, on a Windows PC or server can easily be restored — Microsoft Office (Word, Excel, PowerPoint, etc), CAD, PDF, and other file types.

Users can easily restore accidentally deleted & overwritten files themselves, with no assistance needed from the IT department.

V-locity eliminates the two big I/O inefficiencies in a virtual environment that generates minimum of 30-40% I/O traffic that is nothing but mere noise dampening performance.
V-locity® is I/O reduction software for virtual servers that solves I/O inefficiencies at the source, transforming and streamlining I/O to make Windows servers faster and more reliable. All of V-locity's features and functionality are now included in DymaxIO.
New DymaxIO will automatically detect a virtual environment and immediately get to work solving the I/O blender effect for blazing performance, fast data speeds, increased VDI density, and extended hardware life.
If you are looking to purchase V-locity, get in touch with us and we will provide you more info about the software.
Power Management Solutions Products

PwrSmart Software gives you immediate energy savings by automatically powering down computers when not in use.
PwrSmart Software maximizes your energy efficiency by automatically and centrally controlling your PC's behavior when inactive.
Is your organization wasting significant energy powering PCs when not in use? You are not alone. Studies show that up to 64% of computers are left on at full power at the end of the workday.
This unproductive energy usage may account for up to 15% of your organization's total energy consumption. PwrSmart Software eliminates this waste — saving significant dollars for your organization.
Key Features Of PwrSmart Software
"Set-It-and-Forget-It" Enforcement: Ensures PCs never stray from the organization's power management standards.

Exclusive PwrGroups® Technology: Targets configurable and dynamic groups of computers with their unique power scheme. PwrGroups can be based on Active Directory® OU membership, geographic location, IP address, hardware configuration, operating system language, time zone and many other configurations.

Flexible Power Schemes: Provides pre-packaged and customizable power schemes that facilitate multiple daily power settings, maintenance activities, scheduled events and software exclusions.

Customized messages for end users: Allows you to notify end users of upcoming scheduled power events such as standby or hibernate in any language and with any additional text you'd like to include ("Thank you helping us reduce our carbon footprint!").

NetSupport DNA provides the complete solution to help monitor and manage its use, support staff in achieving best practice and protect students, both in the classroom and across the school.
This award-winning solution gives technicians IT asset management features to effectively track, monitor and manage IT assets across a school and its sites from one single point, helping them to save time, identify cost savings and increase security – plus improve staff and student productivity.
A built-in safeguarding module is included – as standard – to help schools improve their Safety and safeguarding functions; its range of proactive and reactive features being specifically designed to protect students without impacting learning outcomes.
Meanwhile, teachers can access the classroom management toolkit (NetSupport School – also available separately) to gain dedicated assessment, collaboration and control features, to leverage the full value of technology-led teaching and learning.
Hardware inventory and discovery

Software licence management

Complete power management

Multi-site management

Endpoint security and system-wide alerts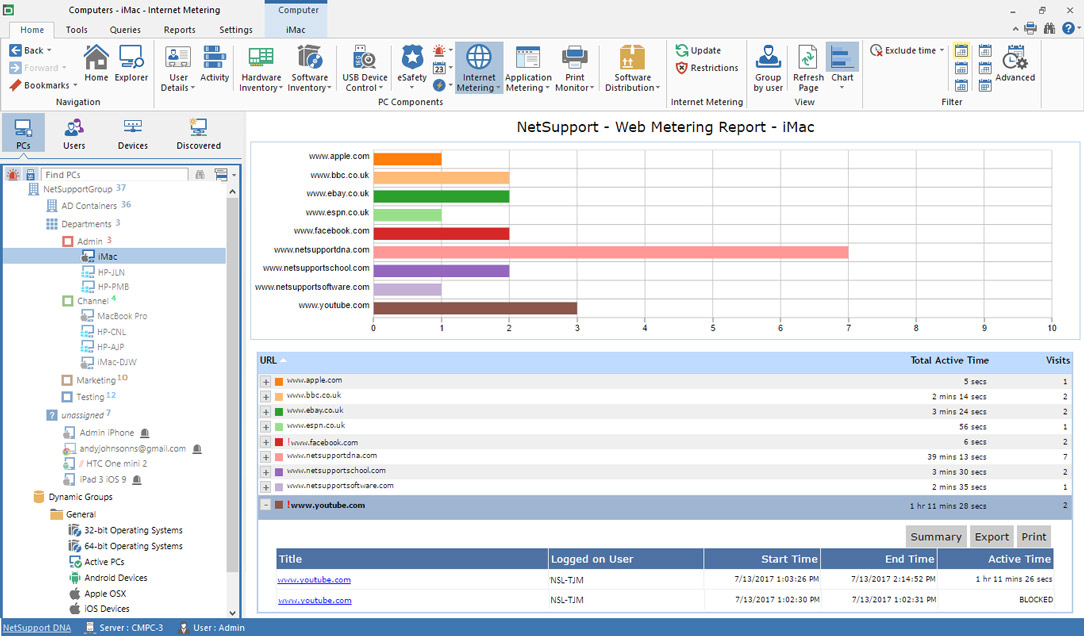 Safeguarding alerts

Keyword monitoring

Student 'Report a concern'

Track 'at risk' student activity

Application and web metering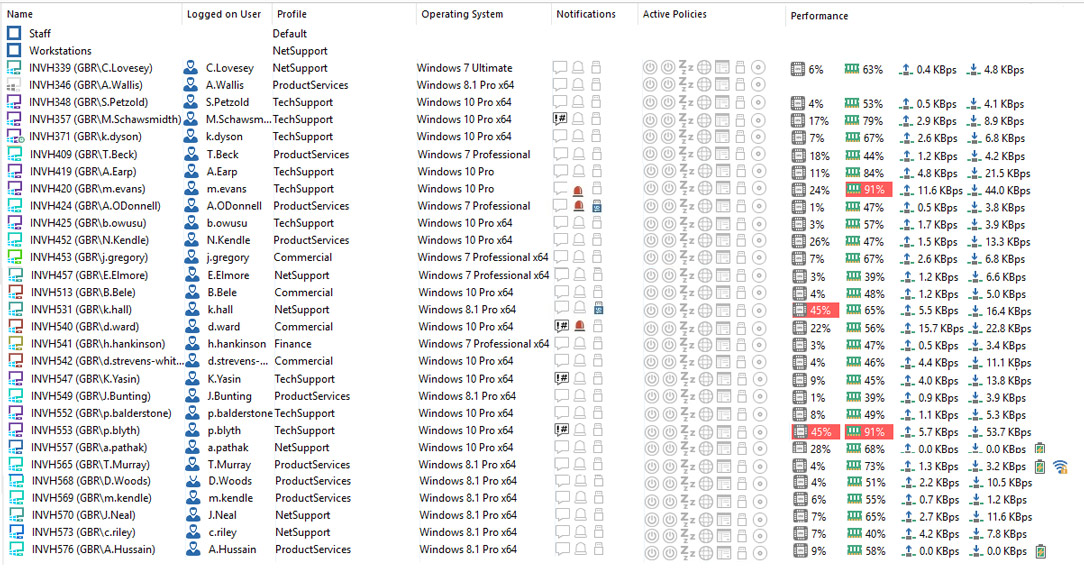 Real-time ICT instruction

Classroom assessment tools

Show teacher's screen

Hand out and collect files

Monitor students' screens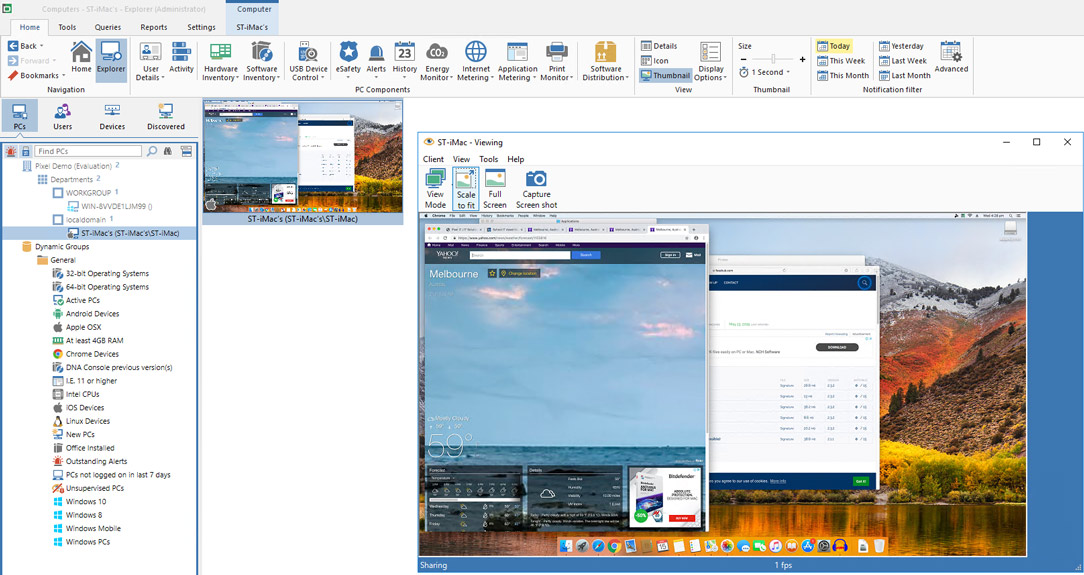 Endpoint Central is a unified endpoint security and management solution that helps manage servers, desktops, and mobile devices all from a single console. It automates desktop management functions such as installing patches, distributing software, IT assets tracking, security management, remote control etc.
Empowering businesses to cut their IT infrastructure costs, achieve operational efficiency, improve productivity, and combat network vulnerabilities.
Patch Management: Secure your network by automating patch deployment for Windows, Mac, Linux and Third-Party Applications.

Software Deployment: Deploy Software to all the endpoints within your network in just a few clicks using 4,500+ pre-defined application templates.

Mobile Device Management: Configure, manage and secure mobile devices centrally using mobile device management

Endpoint Security: Strengthen endpoint security by regularly assessing vulnerabilities, monitoring browsers, controlling applications and devices in your enterprise network.

OS Imaging & Deployment: Automatically image and deploy OS on Windows computers, along with the installation of required drivers and applications using OS deployment.

IT Asset Management: Manage software and hardware assets within your network and track license and warranty details effortlessly.

Remote Control: Troubleshoot remote desktops with multi-user collaboration, file transfer, video recording, and more.

Modern Management: Unify endpoint management with a similar approach towards managing both mobile phones and Windows 10 devices.

Configurations: 25+ pre-defined configurations including Power Management, USB Device Management, Security Policies, and so on.
Windows
Endpoint Central Available In 4 Editions
Backup & High Availability Solutions Products

No IT environment is immune to accidental deletions or modifications; on-premises Active Directory (AD), Azure Active Directory, Microsoft 365, Google Workspace, and Exchange environments are no exceptions.
RecoveryManager Plus can help you overcome any disaster caused by unwanted changes in your IT environment. Back up your AD, Azure Active Directory, Microsoft 365, Google Workspace, and Exchange environments from a single console and restore any object, site, or mailbox whenever you need it.
Ensure 24/7 data availability 365 days a year across a variety of cloud and on-premises applications using RecoveryManager Plus.
Why choose RecoveryManager Plus?
Quick and easy deployment: Once installed, you can configure your first backup in less than five minutes.

Multiple backup storage options: Store your Microsoft Office 365 and Exchange backups within your premises or in your Azure Blob Storage and Azure file shares.

Ransomware threat mitigation: Never pay ransoms for your files. Simply restore affected files from your backup copy instantly.

Custom notifications: Curate your notification profile, and choose the actions you want to receive notifications for via email.

Unified backup solution: Configure multiple AD domains, Azure AD and Office 365 tenants, and Exchange organizations for backup, and manage them from a single dashboard.

Automated backups: Schedule backups at fixed intervals to ensure you've backed up the most recent version of your AD, Azure AD, Microsoft Office 365, and Exchange environments.

Backup delegation: Assign predefined technician roles such as admin, operator, or auditor to users, or create your own roles based on your specific needs and give users the rights to perform specific functions in the product.

Technician auditing: Audit each action performed by technicians to make sure no unwanted or unexpected changes are applied to your environment.

Carbonite Availability software keeps critical business systems available and prevents data loss on Windows and Linux servers.
Our continuous replication technology maintains an up-to-date copy of your operating environment without taxing the primary system or network bandwidth.
Carbonite Availability software is installed on primary systems and the secondary target.
The software continuously creates a replica of the primary system at the secondary location.
When a failure occurs, the secondary systems go live and DNS re-routes the users.
Depending on system setup, users may not even realize they're running on the target system.
Push-button failover
Continuous replication for always-on data protection

Rapid failover for recovery times of minutes

Supports replication between disparate physical, virtual and cloud-based systems

Multiple recovery points using historical snapshots

Advanced features like encryption in-flight, compression, and bandwidth throttling

Comprehensive API and SDK enable integration and automation

Award-winning technical support available 24/7

Easy, non-disruptive testing