What Is IT Asset Management?
IT asset management (also known as ITAM) is the process of ensuring an organization's assets are accounted for, deployed, maintained, upgraded, and disposed of when the time comes. Put simply, it's making sure that the valuable items, tangible, and intangible, in your organization are tracked and being used.
So, what's an IT asset? Defined simply, an IT asset includes hardware, software systems, or information an organization value. IT assets have a finite period of use. To maximize the value an organization can, generate from them, the IT asset lifecycle can be proactively managed.
There are even companies where people are being employed just to keep track of IT assets. Systems should do this work. Without having to relegate time and brain matter to tracking artifacts, monitoring usage, and understanding dependencies, IT employees can focus more on what matters most to the organization. Thus, we bring to you our world class ITAM software's to bring order and offer a single source of truth for IT teams, management, and ultimately, entire organizations.
IT Asset Management Products

ManageEngine AssetExplorer is a web-based IT Asset Management (ITAM) software that helps you monitor and manage assets in your network from Planning phase to Disposal phase.
AssetExplorer provides you with several ways to ensure discovery of all the assets in your network. You can manage software & hardware assets, ensure software license compliance and track purchase orders & contracts – the whole nine yards! AssetExplorer is very easy to install and works right out of the box.
Discover all the Windows, Linux, and macOS assets in your network with the unified agent for asset discovery.

Manage and Monitor software and hardware assets.

Manage the complete IT Asset lifecycle.

Ensure software license compliance.

Make informed decisions about hardware and software purchases throughout the entire IT Life Cycle.

Track Purchase Orders and Contracts.

Know the total cost of ownership of an asset.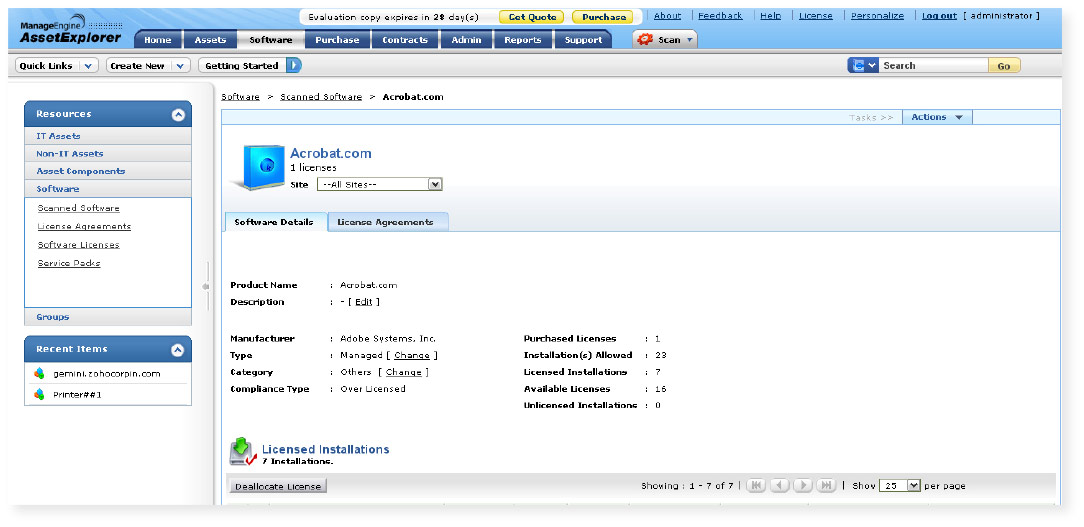 IT Asset Management

Monitor complete asset life-cycle from procurement to disposal
Auto-discovery and management of all hardware and software inventory deployed in your network
Drilldown into assets to view critical information (history, CI info, relationship etc.)

CMDB

View all the Configuration Items and their relationships
Helps in root cause analysis and impact monitoring
Close to 50 pre-defined Configuration Types available

Software Asset Management & License Compliance

Stay compliant with license agreements with easy-to-understand flash charts
Identify unused and under-utilized licenses

Purchase Orders and Contracts

Use purchase order workflow for ease of purchase order generations
Define contract details, rules and attach contracts
Notify technician prior to contract expiration

Reports

Generate detailed pre-defined/custom/query reports
Ability to schedule reports and deliver to your inbox

End-to-end ITAM mobile application

Discover, manage, and track all your hardware and software assets from anywhere with the AssetExplorer mobile app for iOS and Android.
AssetExplorer Is Available In 3 Editions

A suite of easy-to-use tools for managing and supporting IT assets across a corporate network.
As the use of technology increases in enterprises, NetSupport DNA provides the complete solution to help support the management and maintenance of IT assets, whilst supporting its users – all from a central point.
NetSupport DNA features a wealth of components including automatic discovery of devices; hardware and software inventory; change tracking; and user and software licence management. Building on the flexibility of a single solution, NetSupport DNA also includes as standard: energy monitoring; power management; USB endpoint security; printer monitoring; application and internet metering; a flexible alerting suite; and an easy-to-use software distribution module. NetSupport also offers optional service desk and remote-control modules.
Designed for ease of use, this award-winning solution gives technicians IT asset management features to effectively track, monitor and manage IT assets across the enterprise and its sites. Scalable to business needs – from a single SME through to larger multi-site implementations – it helps provide a clear and up-to-date overview of all asset activity.
Netsupport-DNA Key Features
Hardware inventory and SNMP discovery

Software licence management

Internet and application metering and restrictions

Endpoint security

Enforce Acceptable Use Policies

Power management and print monitoring

User account management

Proactive alerts

Easy installation

Multi-site support and management

Range of reporting options

Optional Remote Control
Implemented in minutes, NetSupport DNA will save time and money while enhancing your enterprise's security, ensuring compliance, and increasing productivity.
See the benefits for yourself with our FREE 30-DAY TRIAL!

ServiceDesk Plus is a game changer in turning IT teams from daily firefighting to delivering awesome customer service. It provides great visibility and central control in dealing with IT issues to ensure that businesses suffer no downtime.
ServiceDesk Plus Features
Incident, problem and change management

Purchase order management

Contract management

Self-service portal, and knowledge base

Project Management module is also available
ServiceDesk Plus Benefits
Best practice ITSM workflows

Powerful integrations with IT management apps

Smart automation

Extensive reporting capabilities

Codeless customizations

Deploy on cloud or on-premises
ServiceDesk Plus Is Available In 3 Editions