What Are The Solutions For Education
Solutions to this problem include Creating working groups, within education organizations, with the aim of advancing authentic student learning.
Leverage the internet to create online tools and resources that offer innovative teaching strategies to help engage students.

It's the ideal cloud platform for effective classroom management and teaching, whether everyone is together in the classroom or learning remotely at home.
With no swapping between solutions for the different scenarios, it's a great way to provide continuity for students – and teachers too! classroom.cloud was recently awarded a certificate of Pedagogical Quality by Education Alliance Finland.
Classroom.cloud has been developed with valuable input from teachers and the result is that it's so simple to use. With clear, intuitive controls and the ability to interact with your virtual classroom in real time in just a few clicks, cloud-based teaching and learning has never been so easy!
1.Real-time instruction
Share your screen and audio to help explain lesson activities, plus, interact with the class and give every student a voice with chat and messaging tools. Launch websites and applications directly on students' devices to help save time, and even remote control their screens!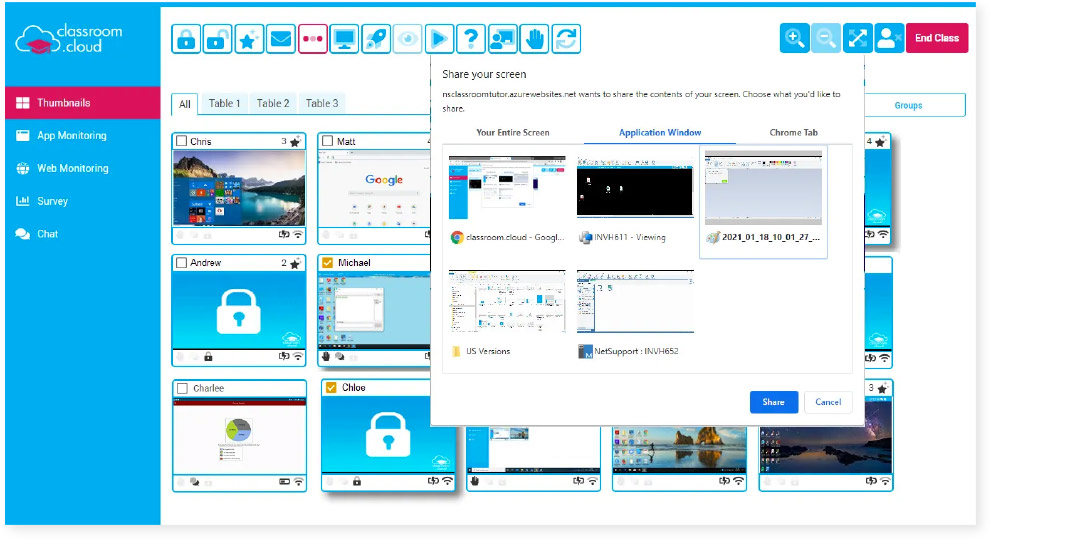 2.Assess and support
Use surveys to quickly gain an insight into everyone's topic understanding and assign rewards to your students throughout the lesson – plus, deliver support quickly and easily when students ask via the help request tool.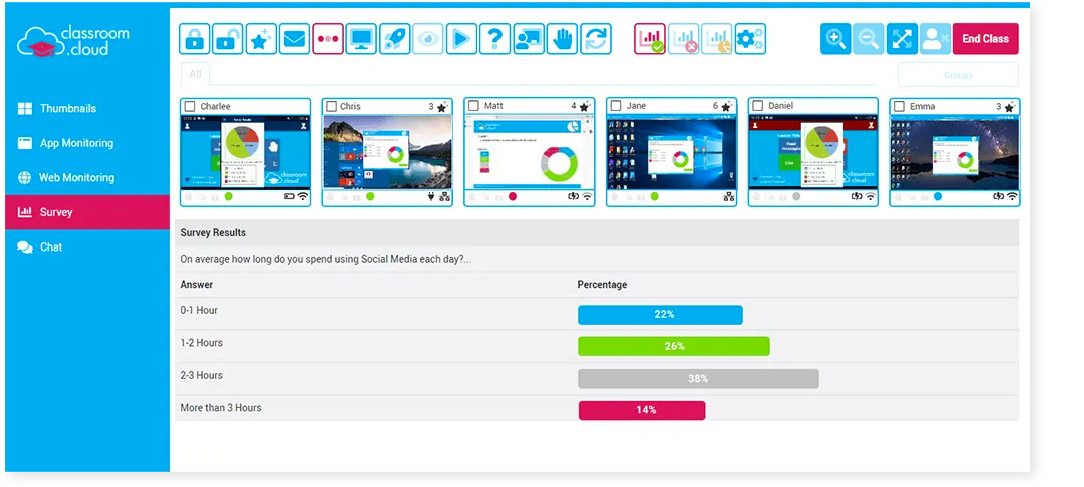 3.Manage online behaviour
Need to get your students' attention? Simply lock their screens! Plus, help them stay on task by easily monitoring what they're typing and who they're collaborating with, and controlling the applications they're using and websites they're visiting.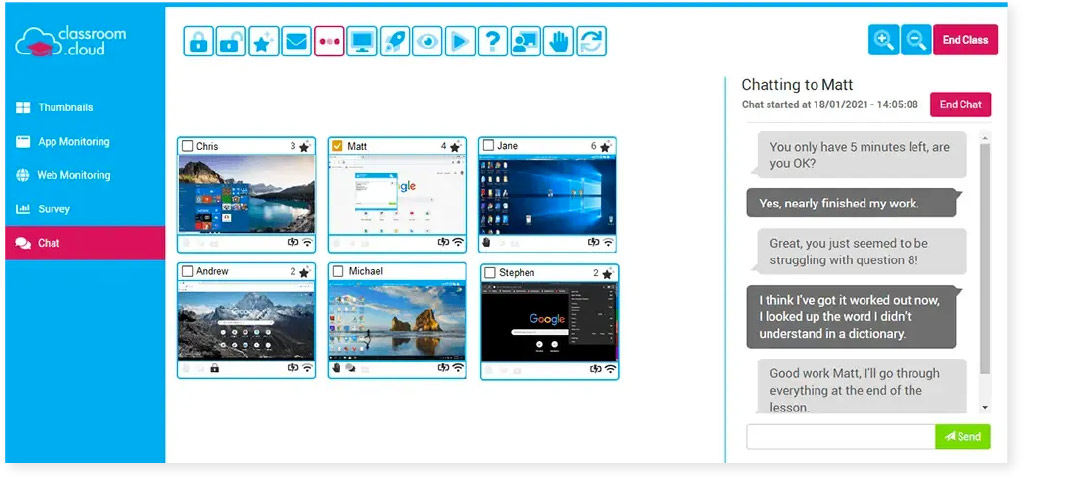 4.Stay safe
The new online safety toolkit helps always keep your online environment safe and secure, by monitoring concerning activity, identifying students at risk and spotting concerning trends. Its powerful tools are perfect for helping inform your online safety strategy/policies, and meeting the latest requirements.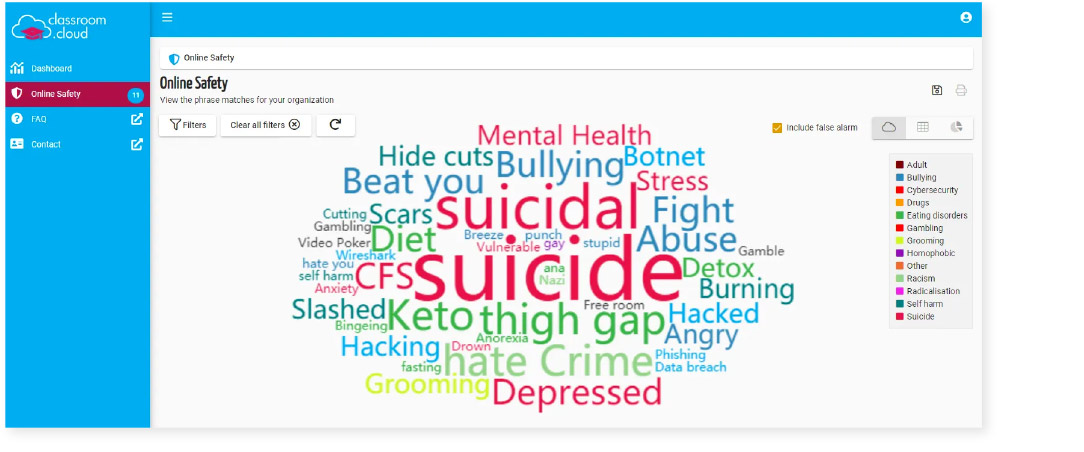 Why choose Classroom Cloud?
Easy for teachers: The easiest classroom tool you'll ever use, classroom. Cloud lets you monitor, control, and collaborate with your students to maintain their learning continuity – in class or remotely – keeping them on target for success.

Easy for technicians: Easy to set up, configure, manage, and use, classroom. Cloud virtually takes care of itself! Integrating directly with your existing infrastructure, you can deploy in minutes and manage teacher and student devices centrally – saving you a bunch of time.

Easy for online safety/ safeguarding staff: With clever use of contextual intelligence, and by working with educators, young people and leading charities, the online safety toolkit helps you identify, support, and always protect students – no matter where they are.

Easy for schools, Districts/Trusts: Low cost, scalable and central configuration, and management – classroom. Cloud is ideal for schools, Districts/Trusts. Once set up, the IT team's involvement is minimal – and, for teachers, using its intuitive interface is a breeze!

Helping schools worldwide, award-winning classroom management solution, NetSupport School provides teachers with dedicated assessment, monitoring, collaboration and control features to leverage the full value of technology-led teaching and learning using best practice.
NetSupport School Features
View and control students' screens

Language Lab module

Digital journals of key content

Teacher, T/A and Student apps

Testing and assessment tools

Internet metering and control

Real-time instruction tools

Integration with OneDrive

Show teacher's screen to students

Application metering and control

Hand out and collect work
The solution not only saves teachers' time and maintains students' focus, but also improves learning outcomes – regardless of the preferred learning style.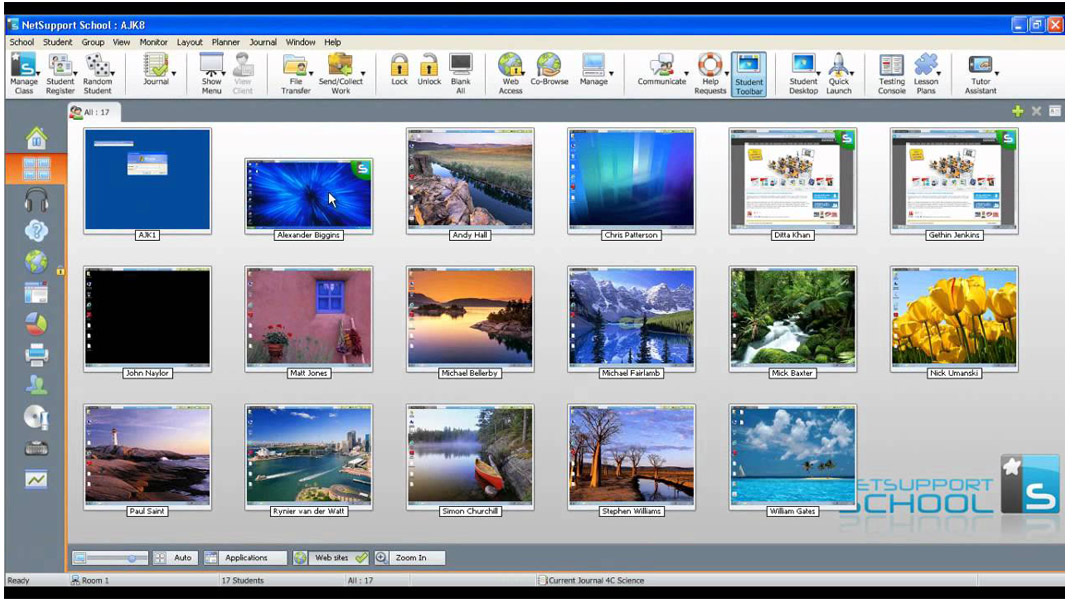 NetSupport DNA provides the complete solution to help monitor and manage its use, support staff in achieving best practice and protect students, both in the classroom and across the school.
This award-winning solution gives technicians IT asset management features to effectively track, monitor and manage IT assets across a school and its sites from one single point, helping them to save time, identify cost savings and increase security – plus improve staff and student productivity.
A built-in safeguarding module is included – as standard – to help schools improve their Safety and safeguarding functions; its range of proactive and reactive features being specifically designed to protect students without impacting learning outcomes.
Meanwhile, teachers can access the classroom management toolkit (NetSupport School – also available separately) to gain dedicated assessment, collaboration and control features, to leverage the full value of technology-led teaching and learning.
Hardware inventory and discovery

Software licence management

Complete power management

Multi-site management

Endpoint security and system-wide alerts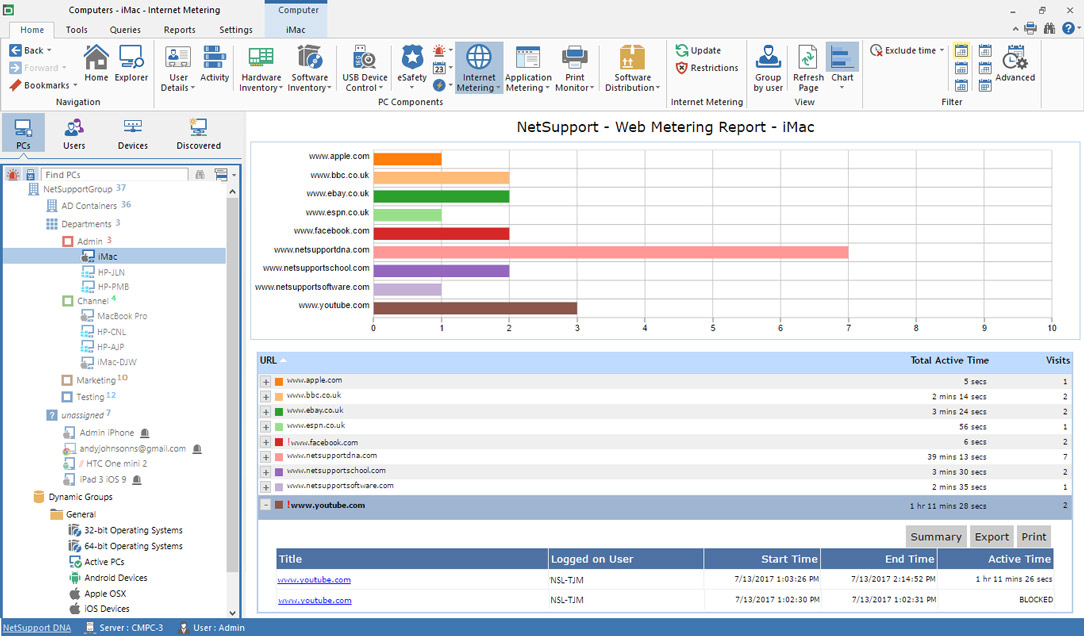 Safeguarding alerts

Keyword monitoring

Student 'Report a concern'

Track 'at risk' student activity

Application and web metering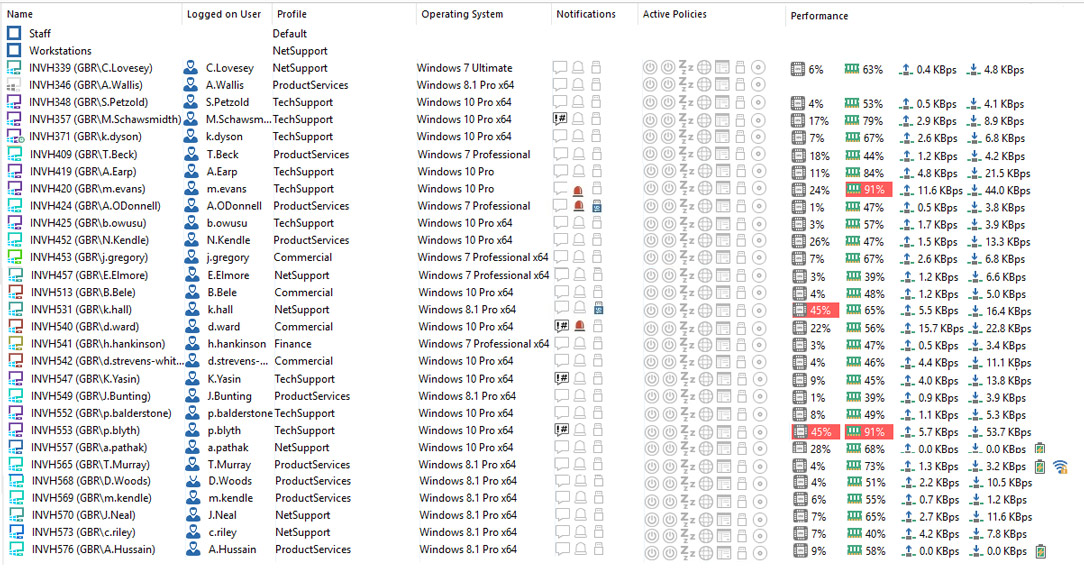 Real-time ICT instruction

Classroom assessment tools

Show teacher's screen

Hand out and collect files

Monitor students' screens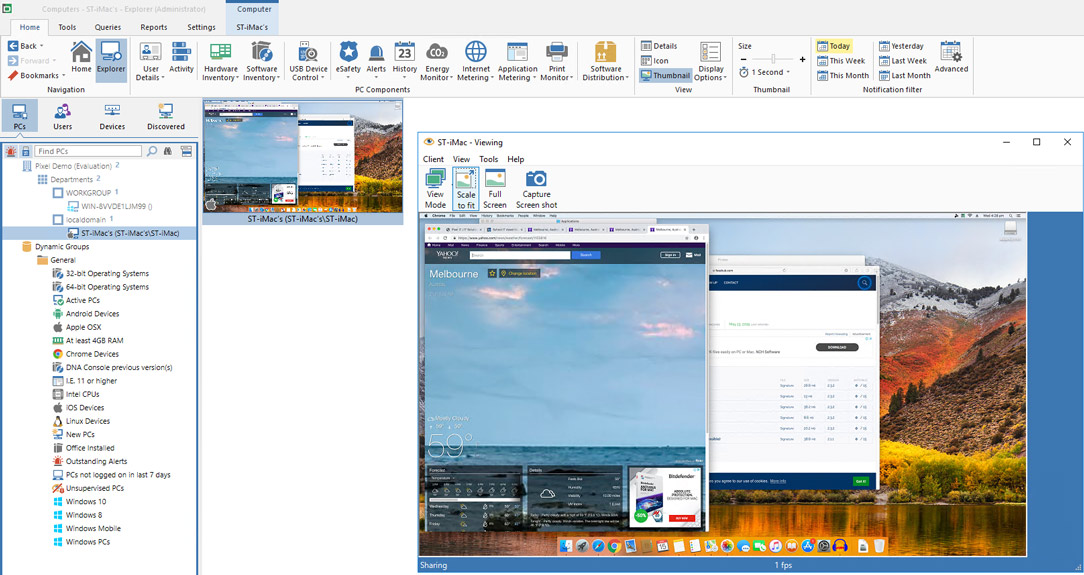 NetSupport Notify is designed to deliver one-way alerts and notifications to desktop users that cannot be skipped, ignored, or saved for later.
Scaling to the largest of organisations with multiple sites, it provides a choice of priorities, customisations, delivery options and reporting.
In today's challenging working environments, organisations are fast realising the benefits of mass notification technology.
As a solution specifically designed to deliver one-way alerts and notifications to desktop users that cannot be skipped, ignored or saved for later, NetSupport Notify scales to the largest of organisations with multiple sites and provides real-time status of notifications and acknowledgements − as well as delivering pre-scheduled alerts.
Simple to implement and use, NetSupport Notify is the perfect choice for messaging and alerting across a LAN or WAN network. Its dedicated local notification gateways allow seamless message delivery across multiple network segments or dispersed sites without the need for network modifications or switch configuration. A true mass notification system with fast and reliable alerts, NetSupport Notify's alerts can carry varying priorities, customisations and delivery options.
With its low cost and ease of use, it's no wonder there are over two million users worldwide.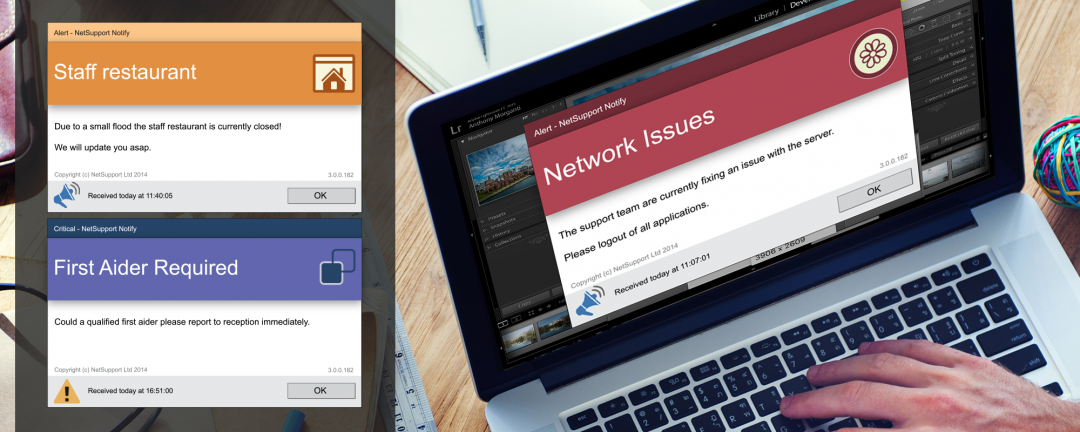 NetSupport Notify Features
Multi-platform support

Send "full screen" messages

Mobile Console for Android and iOS

Send targeted alerts to selected groups

Send alerts to unlimited number of users

Customise alerts with your branding

Flexible delivery options and scheduling

Full reporting and tracking

Easily integrated into your existing IT infrastructure, NetSupport ServiceDesk delivers the processes needed to help you effortlessly track, organise, manage, and answer the toughest support challenges.
Its fully customisable and intuitive browser-based interface supports both desktop and mobile platforms and delivers robust workflow processes.
It supplies a wealth of management reports as well as providing a customer-friendly self-service portal – all the tools needed to help technicians deliver support effectively.
NetSupport ServiceDesk Features
Incident management

Review status in real time

Customisable, multi-lingual interface

Real-time management reports

Solutions database for customers to search for an answer before they log an incident

Automated incoming/outgoing email processing

Automated assignment to escalation processes

Attach, store and associate files to an incident