In today's digital landscape, effective IT infrastructure management and streamlined service delivery are vital for organisations to maintain operational efficiency. The integration of ManageEngine's OpManager with ServiceDesk Plus provides a comprehensive solution, empowering IT teams to proactively monitor network health and seamlessly resolve incidents, all within a single, unified platform.
Enhanced Network Monitoring
ManageEngine's OpManager is a robust network monitoring solution that offers real-time visibility into an organisation's IT infrastructure. By integrating OpManager with ServiceDesk Plus, IT teams gain a holistic view of network performance and can proactively identify potential issues before they escalate. OpManager's comprehensive monitoring capabilities, including device health, bandwidth utilisation, and network traffic analysis, enable organisations to ensure optimal network performance and minimise downtime. The integration enables automatic ticket generation in ServiceDesk Plus for identified network events, streamlining the incident resolution process, and ensuring seamless communication between network monitoring and service desk teams.
OpManager Integration with ServiceDesk Plus
ServiceDesk Plus is a feature-rich IT service management solution that helps organisations manage and resolve IT incidents effectively. The integration with OpManager enhances incident management by automatically converting network alerts into service desk tickets, enabling swift action. This integration ensures that IT teams have complete visibility into network events and can initiate troubleshooting processes promptly. With consolidated incident management capabilities, IT professionals can assign, track, and prioritise incidents seamlessly, improving response times and minimising business disruptions.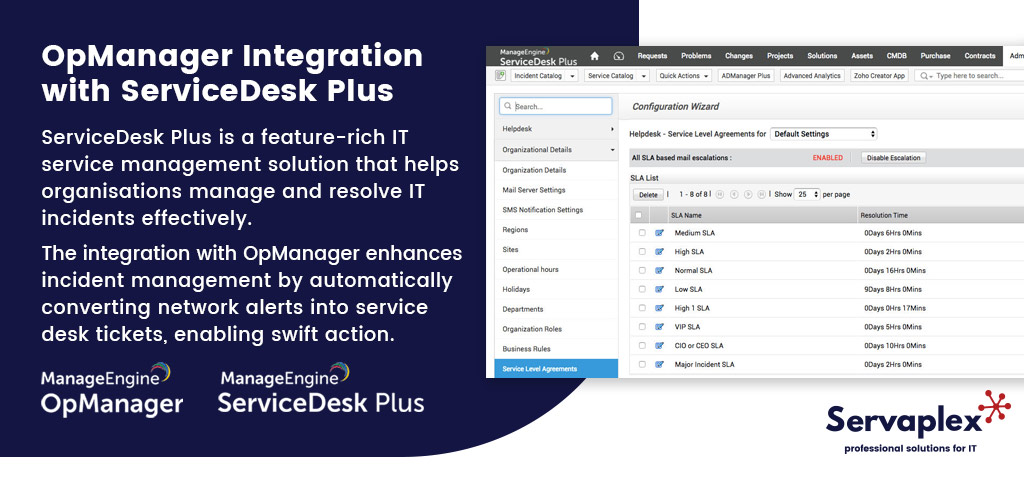 Synchronised Asset Management
Integrating OpManager with ServiceDesk Plus brings synchronisation between network monitoring and IT asset management, offering an end-to-end solution for IT teams. The integration allows for automatic discovery and mapping of network devices, which are then linked to asset records in ServiceDesk Plus. This synergy enables accurate asset inventory, ensuring comprehensive visibility into the IT landscape. IT professionals can easily access asset-related information, such as configuration details and service history, directly from the service desk interface. This streamlined approach enhances efficiency and facilitates proactive maintenance and asset lifecycle management.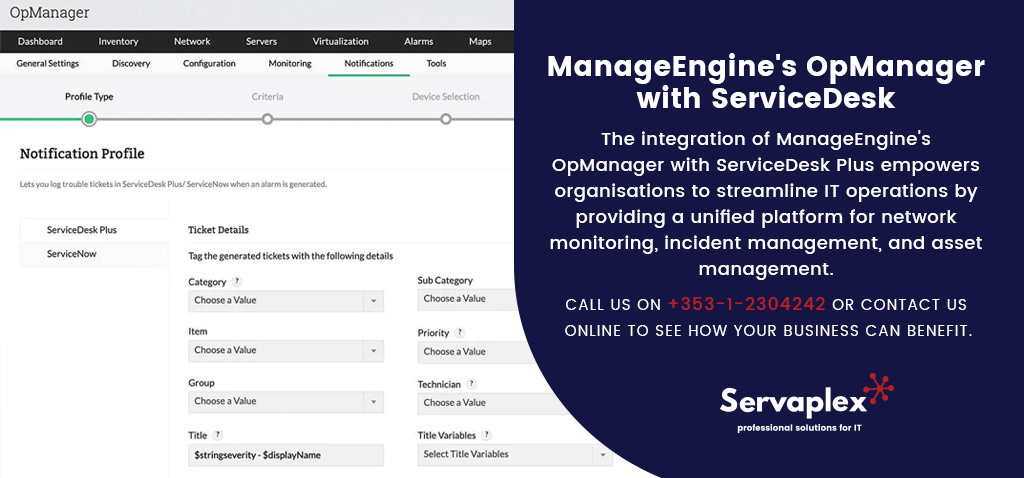 ManageEngine's OpManager with ServiceDesk – Empowering Organisations
The integration of ManageEngine's OpManager with ServiceDesk Plus empowers organisations to streamline IT operations by providing a unified platform for network monitoring, incident management, and asset management. This integration enhances collaboration, improves response times, and optimises IT resource allocation, resulting in increased productivity, reduced downtime, and enhanced overall operational efficiency.
If you have an IT Problem then we've got the IT Solution, call us on +353-1-2304242 or contact us online for more info!