Servaplex are delighted to invite you to our first seminar of 2023. Please join us for our ManageEngine ITOps and Endpoint Security Seminar in the Royal Marine Hotel, Dun Laoghaire on Tuesday 28th of March.
ManageEngine ITOps and Endpoint Security Seminar
This seminar will focus on ITOps and endpoint security, join our experts to discover trends, learn strategies, and explore solutions for driving business growth. Engage with our experts to learn how you can leverage ManageEngine solutions to give your IT the much-needed edge.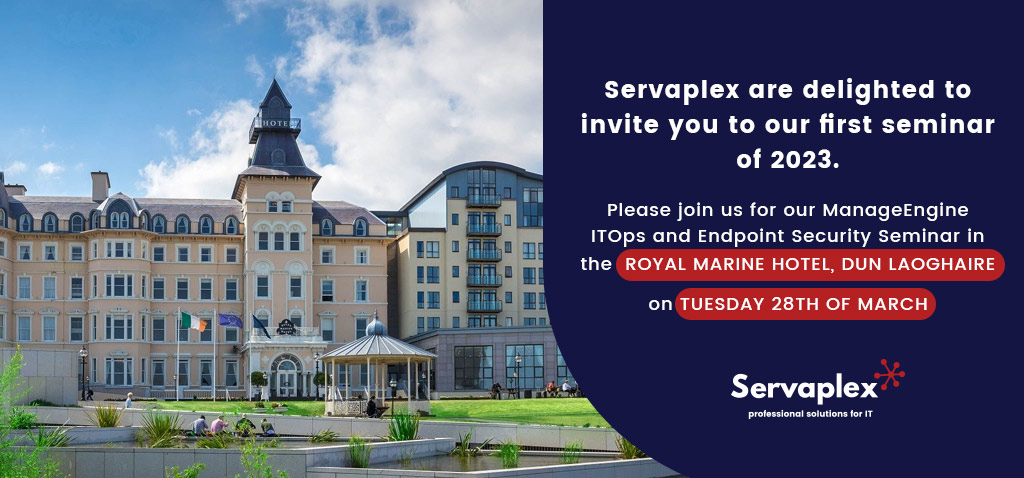 Accelerate IT Agenda
Have a look at what the day has in store for you:
08:00 – 09:00 AM – Coffee, Pastries, and Registration
09:15 – 09:30 AM – Exploring a unified IT security strategy
09:30 – 9:50 AM – Automating IT security: Vulnerability and Patch Management
10:20 – 10:30 AM – Quiz & Networking break
10:30 – 10:55 AM – Enhancing end-user experience and endpoint security
10:55 – 11:20 AM – Drifting from risk to resilience with UEMS
11:20 – 11:40 AM – Networking break
11:40 – 12:00 PM – Hear what ITOM customers have to say!
12:00 – 12:50 PM – Incorporating AIOps to achieve holistic network monitoring
12:50 – 1:20 PM – Unlocking the key to exceptional end user experience with application performance monitoring & observability
1:20 – 1:30 PM- Questions and Answering
Seminar Presenters
We are delighted to have Romanus Prabhu, Global head of support for ManageEngine UEM, Santhosh Narasimhamoorthy, Senior Technical Evangelist and Rishi Technical Support Engineer ITOM – Presales.
Romanus Prabhu: Global head of support for ManageEngine UEM
As the Global Head of Technical support, Romanus Prabhu is responsible for ensuring that ManageEngine's UEM customers across the globe are happy. He is responsible for overseeing seamless on-boarding, product training and implementation, and support experience for all customers. Romanus also heads the product evangelists, professional services, partner certification, and customer success teams to nurture long-term relationships with each client, and in-turn nurturing community champions for the ManageEngine. Romanus is passionate about customer and employee success, solving complex challenges with teamwork and innovative thinking. Romanus is recognized as a corporate IT leader for his entrepreneurial spirit, curiosity and thought leadership.
"We want to give a perspective to the endpoint security against the modern and sophisticated attacks. Giving visibility of architecting a layered approach which would help them to stop threats and provides cybersecurity and resilience to the business."
Santhosh Narasimhamoorthy: Senior Technical Evangelist
Santhosh is a Senior Technical Evangelist for Unified Endpoint Management at ManageEngine. His areas of expertise broadly include technical support and implementation. With over 9 years of experience in client management and technical support, he is guiding customers to make the right choices in terms of implementing and configuring the end point management applications for enterprise environments.
Win a Stay In The Royal Marine Hotel
The Royal Marine Hotel was first built in 1863 and is regarded as one of the finest 4-star hotels in Dublin and has hosted many Heads of State, Kings, Queens and celebrities including old blues eyes Frank Sinatra, Laurel & Hardy, and Charlie Chaplin. The Irish freedom fighter Michael Collins is believed to have hidden out in Room 210 with his partner Kitty Kiernan. If you want to have a chance to stay in the famous room 210 in The Royal Marine, then you are in luck!! To say thank you, we are running a draw for you and another person to win a stunning Bed – Breakfast – Dinner in the famous Royal Marine. Make sure you attend on July 7th and, as the saying goes, it could be you!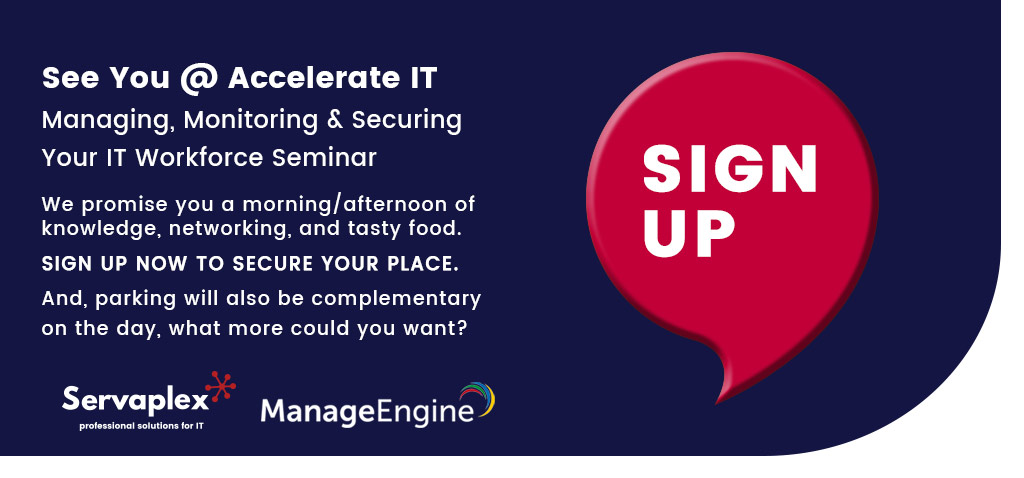 See You @ Accelerate IT – Managing, Monitoring & Securing Your IT Workforce Seminar
We promise you a morning/afternoon of knowledge, networking and tasty food. Sign up now to secure your place. And, parking will also be complementary on the day, what more could you want?
If you have an IT Problem then we've got the IT Solution, call us on +353-1-2304242 or contact us online for more info!