Many businesses are in need of a committed IT partner, but not all of them know how to pick the best one. This post will discuss how to choose an IT partner and what to think about to make sure you pick the best IT partner.
IT Partner Definition: What exactly is an IT Partner?
Companies frequently develop connections with IT partners to aid in the recommendations, architecting, implementing, managing and optimisation of their IT systems.
IT partners collaborate closely with businesses to ensure they receive the best guidance and technical support for both internal and customer-facing systems. An IT partner can, among other things, increase efficiency, enhance the customer experience and guarantee that all systems are secure and accessible at all times.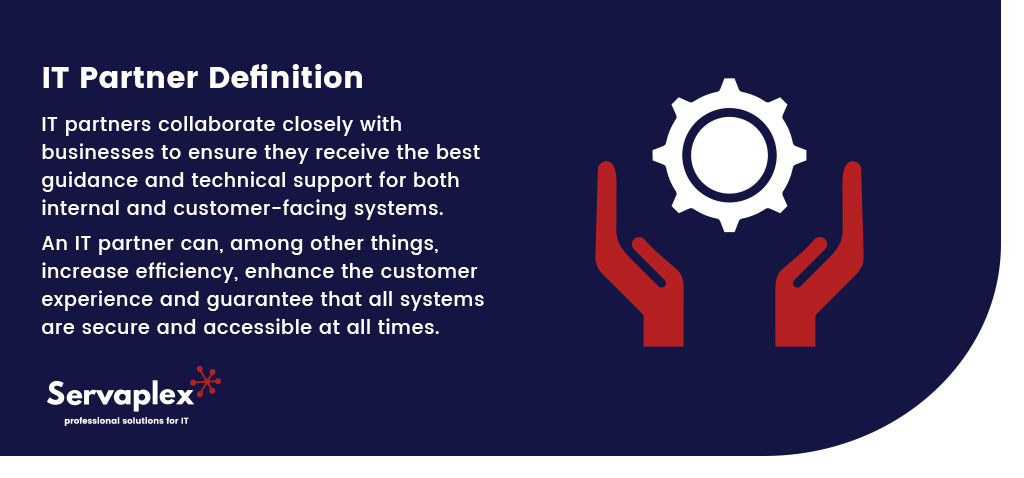 Why Use an IT Partner?
The reason why businesses require a technical partner is fairly clear. Every day, the landscape of corporate technology becomes more complicated, necessitating the need for knowledge in a very narrow field. Even businesses with an internal IT team frequently have to outsource tasks like cybersecurity, software creation or certain MSP Services.
Choosing the appropriate technology is crucial if you want to remain competitive and compliant. Working with an IT partner enables businesses to get top-tier counsel while freeing up time to concentrate on managing their operations.
The Importance of Picking the Right IT Provider
In reality, there are thousands, if not millions, of technical partners to pick from, each with its own set of services, expertise and specialty. There are several potentially good or awful options since the playing field is so large.
It's crucial to know what to look for and, possibly even more importantly, what to beware of before you commit since the ideal IT partner for one of your colleagues might not be the greatest one for you. Making informed decisions can help you achieve more success and boost your revenue. A poor IT relationship might consume up a lot of your resources, stress you out and not provide the return on investment you need or desire.
If you pick the incorrect IT partner, the following problems may occur:
Technology that is Unstable or Unreliable: Customers are likely to turn elsewhere to meet their demands if your applications, website and systems are unreliable or underperforming.
Weakness in Cyber Security: Your security framework's weaknesses encourage malicious assaults or raise your risk of experiencing a security event, which may cost millions to resolve.
Knowledge Gap: Your IT partner may not completely comprehend your needs or the best solutions to adopt if they have no prior expertise with your sector.
Wasteful Usage of Resources: You can be sacrificing outcomes if you pick your IT partner only on the basis of pricing. On the other hand, you can be incurring unnecessary costs by paying for services you don't require. To make sure it fits your demands and stays within your budget, you need to be aware of the true cost of your IT assistance.
Poor Customer Assistance and Service: Having a single point of contact is crucial. Your business operations are at danger if not. Any delay in handling problems might affect your reputation, your ability to continue doing business, and your productivity and income.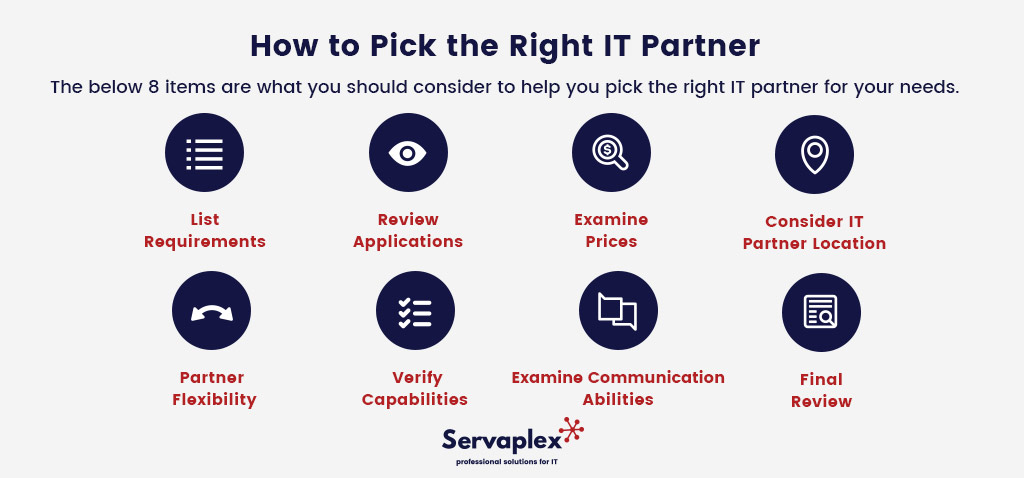 How to Pick the Right IT Partner
List your requirements and requirements for the project's IT partner
Think about your objectives for each project and make a list of the corresponding technical requirements. For the project to be successful, your ideal IT partner must be able to supply those skills.
Look into possible applicants with the appropriate experience
Speak with co-workers, business partners, and corporate stakeholders to get their opinions on potential firms or people to hire to fill the gap. Request examples of prior work, check references, and chat with former customers.
Examine Prices
To ensure value in the contract you make, you must establish a pricing baseline for the services you need. By doing so, you'll be able to spot inaccurate pricing—sometimes, when a deal looks too good to be true, it actually is!
Take into account the location: onshore, offshore or local
When it comes to IT services, there are local, onshore, nearshore, and offshore options. What option is ideal for you will depend on your individual requirements and preferences. Is a meeting with them necessary? Do they collaborate with your development group? Even though an offshore IT partner indicates a large cost savings, it could not be worth it in the long run due to time zones, language barriers, and cultural differences.
Examine Flexibility
You must have confidence in your technical partner's ability to prioritize your tasks and adhere to deadlines. Being flexible and adaptable is crucial since changes are inevitable.
Verify Capabilities
Based on their capacity to fulfil your technical needs, you select an IT partner. For example, you wouldn't entrust cybersecurity to a web developer. Verify that your provider has experience in the fields you require.
Examine Communication Abilities
Any collaboration that involves outsourcing must have open lines of communication. A key warning sign is when a possible technical partner doesn't immediately reply or communicate effectively.
Double Check
Make sure to go back and review each step once you have completed them and have chosen the ideal IT partner for your requirements. If everything seems to be going well after that, consider yourself fortunate to have the correct IT partner.
What to Take into Account When Selecting the Best IT Partner
Information and Skill: Make sure the experience and competence of your IT partner match your requirements. Think about your current situation and your desired future situation. You want to know that your new companion will develop with you when you start a relationship.
Communication: Like in any successful partnership, effective communication is essential. Decide on the platforms you'll use to cooperate with your IT partner, how often you'll connect with them, and how you'll do it. To create successful paths, identify the stakeholders as early as possible.
Fit between Culture and Environment: Your new IT partner has to be aware of your company's objectives. They must collaborate closely with you and your internal teams to be successful, thus everyone involved must have the same work ethic. It's ideal to pick a spouse whose culture meshes with yours naturally so that you don't have to waste time catching up.
Price: IT service fees should represent your budget, provide value, and offer a quantifiable return on investment. Make sure you are paying for the services you require and that the pricing is competitive with those of other industry suppliers.
Clear Working Procedures: The ideal IT partner would collaborate closely with you, welcome criticism, and be entirely honest about how they operate. Transparency encourages creativity, promotes invention, and aids in sharpening your attention to what matters most.

Select the Ideal IT Partner

In conclusion, selecting the ideal IT partner is a crucial step in assuring the growth and development of your business. As you widen your search, use this article as a checklist to help you make an informed decision. And, if you're looking to align with an IT partner for the long haul then give us a call or contact us online.

If you have an IT Problem then we've got the IT Solution, call us on +353-1-2304242 or contact us online for more info!