In this post we'll give you the info you need to know about IT Ticketing System Software, what it's used for and the best options available on the market today, read on!
What is IT Ticketing System Software Used For?
Help desk software that is used to handle, manage and monitor client concerns from submission to resolution is called a ticketing system. Support inquiries are automatically categorized and ranked using ticketing systems' central dashboards. As tickets are received, users may categorize, tag and allocate them. In order to maintain track of open requests, these systems also display the status of each ticket.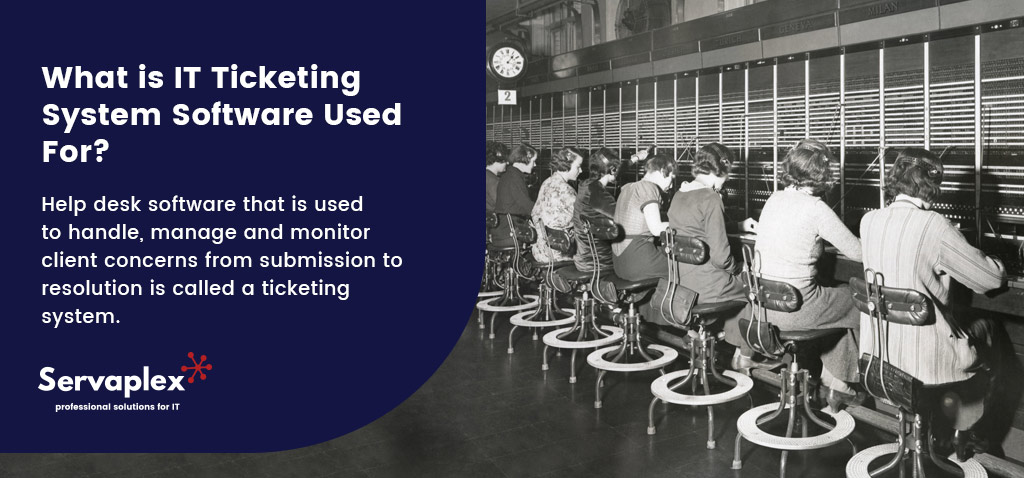 Why Use Ticketing Software?
The use of ticketing software streamlines communication between agents and customers by acting as a central point for answers. Let's say a customer contacts your company via Instagram. Without navigating to the social media app an agent can reply to their message immediately from the ticketing system. Or consider escalating a customers concern. An agent can move a support ticket to the appropriate person via a ticket escalation process and notify the client via the ticketing system.
Encouraging Team Cooperation
In ticketing systems, shared inboxes encourage cooperation as well. Agents may eliminate silos by sharing client information among themselves. Managers of customer support teams may utilize ticketing systems to examine team performance indicators including first-reply time, response time and resolution time. In order to identify the issues that require attention, ticketing systems can even measure the frequency of consumer complaints.
Best IT Ticketing Systems Available
Four of the top solutions that Servaplex offer for IT Ticketing Systems are:
Each solution has three options, standard, professional, and enterprise, depending on your organization's demands and can be tailored to your needs.
Servaplex IT Ticketing System Software Recommendation: ServiceDesk
ServiceDesk Plus is a help desk application that is ITIL-ready, with integrated Asset and Project Management features. ServiceDesk Plus enables IT support teams to provide end customers with world-class service at a lower cost and with less complexity because to its sophisticated ITSM features and user-friendly design. It is offered in 29 different languages and has three editions. 185 countries, 750,000 workers and over 100,000 enterprises rely on ServiceDesk Plus to enhance IT service desk performance. Its sophisticated automation enables the reduction of time-consuming human processes for quicker ticket resolution and higher user satisfaction.
Many organizations acknowledge that their service desk is one of the primary factors contributing to their progress toward their development goal.
"ManageEngine is one of the best products we tested, then purchased for almost 13 years now. It is used across the organization by the IT department to handle all information technology incidents & requests. ManageEngine SerivceDesk Plus has very good features such as the service catalog, change management, & more." ~ IT Security Manager NAP
Why Use ServiceDesk Plus As Your IT Ticketing System
A Single Point of Contact: An all-in-one resource for all customer support, questions, requests, complaints, and assistance requirements is a help desk management system. It enables your customer service personnel to easily manage all client inquiries and complaints from one location.
Effective Tracking and Monitoring: Using an intelligent help desk management solution, you can effectively monitor and track the current status of each complaint or service request made by your client. It enables you to keep an eye on the whole problem-solving cycle, from the point at which it is first registered through the final resolution in a sensible way.
Customer Relationships are Improved: Your company may easily gain high client satisfaction by offering top-notch customer support and help. Additionally, it would enable you to keep up positive, lucrative connections with both old and new clients.
Improved Problem-Solving Timing: Your customer support staff will be able to save valuable time and effort by using a sophisticated help desk management system to streamline many difficult and time-consuming daily activities. This cuts down on the overall amount of time needed to solve a problem.
Quality Boosting: A sophisticated help desk management solution enables firms to raise the standard of customer support and assistance. You can ensure that your clients receive thorough and accurate support with all of their issues and inquiries in mind by using a variety of tools and capabilities.
Boost Brand Reputation and Image: Customer happiness is largely dependent on providing excellent customer care and assistance, which is only possible with cutting-edge help desk management software. A satisfied and devoted consumer would constantly refer other people to your brand. It would assist you in developing a solid brand identity and reputation in the industry.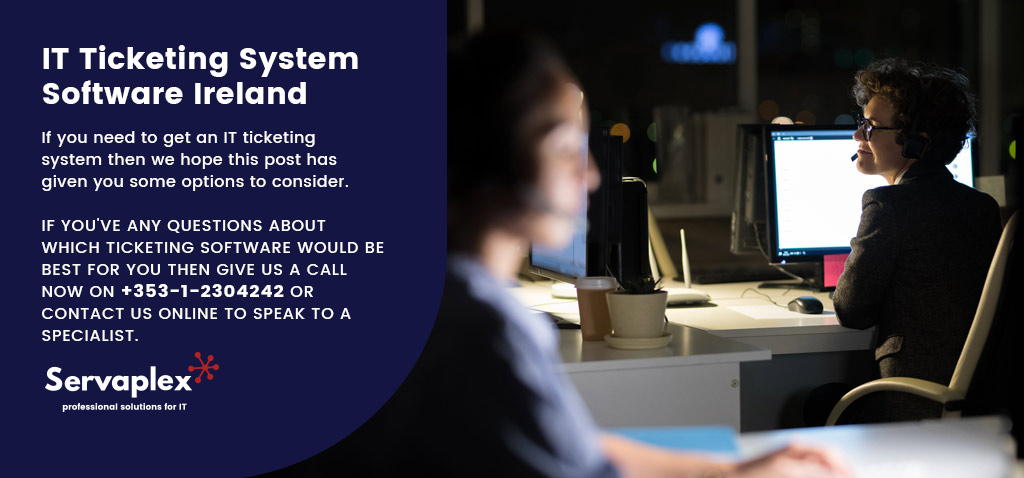 IT Ticketing System Software Ireland
If you need to get an IT ticketing system then we hope this post has given you some options to consider. If you've any questions about which ticketing software would be best for you then give us a call now on +353-1-2304242 or contact us online to speak to a specialist.
If you have an IT Problem then we've got the IT Solution, call us on +353-1-2304242 or contact us online for more info!