Before delving into the 5 biggest ITAM (IT Asset Management) risks and how you can avoid them the first thing we should do is define ITAM which is:
"Systematic and coordinated activities and practices through which an organization optimally and sustainably manages its assets and asset systems, their associated performance, risks and expenditures over their life cycles for the purpose of achieving its organizational strategic plan."
Now that we understand what ITAM is let's highlight the main risks associated with it.
1. Not Knowing What Your IT Assets Are
While it might seem intuitively obvious, many organizations either don't appreciate the need to know with a high level of confidence, the assets that they have, or they choose not to take the time to do so. Either way, this has to be the first major step taken towards ensuring that one's IT asset management program is effective. Not knowing what IT Assets one has is tantamount to playing a game of Russian roulette. If an organization is truly serious about their program, they will need to take the following steps to establish the proper foundation to build upon:
Develop a list of all the organization's assets and verify this list with what is in the field.
Establish and configure a physical asset hierarchy.
Develop the critical evaluation criteria for the business and apply to the verified asset base. This is where the individual assets are linked to how they affect the organizational strategic plan.
Develop and implement a Management of Change or Configuration Management process that will ensure that any future changes to the asset are properly evaluated and recorded.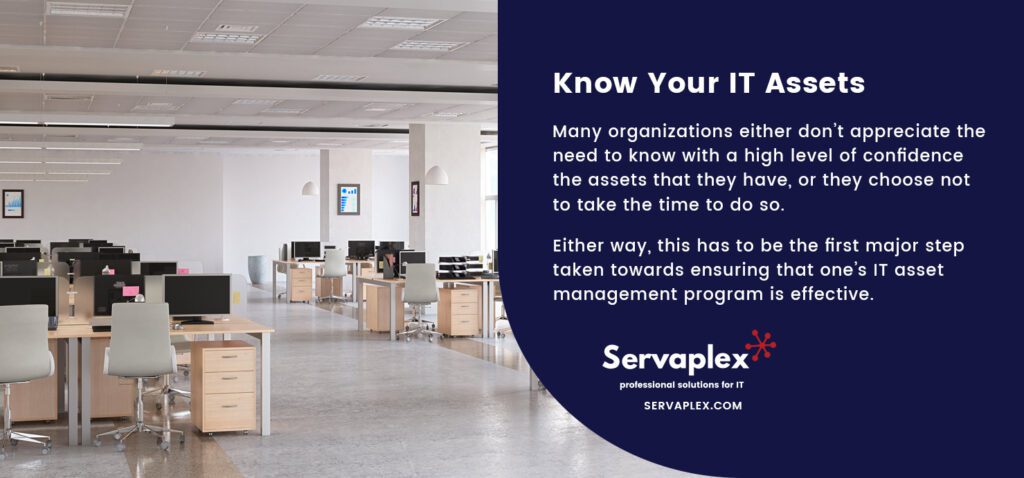 2. Over or Under Maintenance of IT Assets
During the operational phase of the asset life cycle, there can be a problem of over maintaining as well as under maintaining. The key issue regarding over maintaining typically involves two issues that will make the IT asset management system ineffective. Firstly, there is generally a significant cost associated with the execution of non-value-added maintenance. In this regard, cost can be loosely used as a guideline since there are well-documented industry benchmarks for maintenance spending that can be followed. Secondly, the typical organization that can be accused of over-maintaining its assets will most likely be performing intrusive maintenance tasks more frequently. From what we know of how typical failures manifest, this means that there will be additional exposure risk for the business to infant mortality failures and further incurred costs.
The issue of under-maintenance and how it prevents effective IT asset management is even more clear-cut. Maintenance is often viewed as a business expense open to cutting like any other in order to maximize profits. With these pressures, maintenance departments are constantly struggling with how to balance cost with the performance requirements for the assets such as reliability and uptime. Cost cutting often wins, however, in the form of delayed proactive maintenance as well as maintenance technicians lacking the necessary skills and tools to perform precise work.
3. Improper Operation
Many organizations suffer first from a lack of understanding of the inherent design capabilities of their IT assets and secondly, how best to operate within their ranges to optimize the asset life cycle. IT Asset management needs a different approach depending on the industry as we previously discussed in IT Asset Management for Law Firms. For some assets, either operating below or above the design range adversely affects the life of the asset.
find out how your assets should be run.
understand the effects of operating outside of design ranges.
if you can't operate within the ranges, understand the risks or mitigate the risk.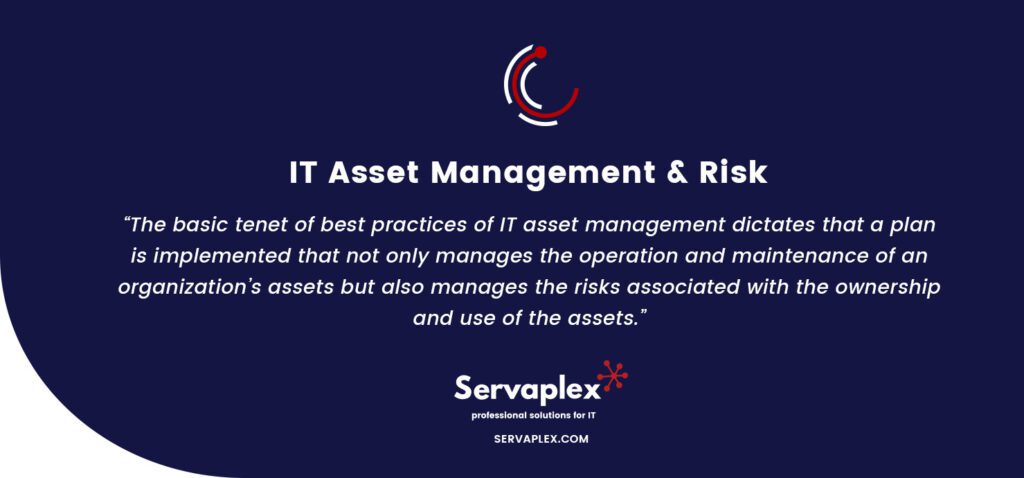 4. Improper Risk Management
The basic tenet of best practices of IT asset management dictates that a plan is implemented that not only manages the operation and maintenance of an organization's assets but also manages the risks associated with the ownership and use of the assets. Risk, in its most elementary form, is a function of consequences and the likelihood of such an event taking place. Risk management takes place on two major fronts: 1) assessment or identification; and 2) management and controls. Each area, when not done well, is a continued contributor to ineffective asset management. One doesn't have to stretch the imagination too far to understand this concept. Perform a Google search on the "Bhopal Disaster", widely regarded as the world's worst industrial catastrophe, for an example of un-assessed and unmanaged risk.
Establish context
Risk assessment: Risk identification, Risk analysis, Risk evaluation
Risk treatment
Monitor and review
5. Sub-optimized IT Asset Management Systems
Enterprise Asset Management (EAM) systems, in recent years have become more popularly used within organizations to manage assets. Most systems have inherent deficiencies that prevent holistic management of all the required areas of the plan. As a result, additional secondary systems are often necessary. That being said, of the features that are available from most EAMs, many organizations are guilty of not fully utilizing them. This generally stems from shortcuts taken during the EAM implementation. The way to fully address this issue is to either do it right the first time or pay more to do it later. This takes planning, resources and treating the implementation as a major change program and not just a project. This is easier said than done and is often best when supported by the services of change management professionals and asset infrastructure specialists. Apart from the tools (EAM, secondary systems) and technical solutions, we often fail to recognize that our human resources and business processes are important parts of an organization's asset management system. A lack of due diligence in these areas will also negatively impact the bottom line and should be planned for as well.
Asset management is an integrated approach to optimizing the life cycle of your assets beginning at conceptual design, through to usage, decommissioning, and disposal. By acknowledging and paying attention to these five primary risks to effective asset management you can put in place plans to mitigate the effects these might have on their program. Note also, that true excellence in asset management performance does not lie only in avoiding the pitfalls, but in turning each and every one of these opportunities to fail into an opportunity to excel.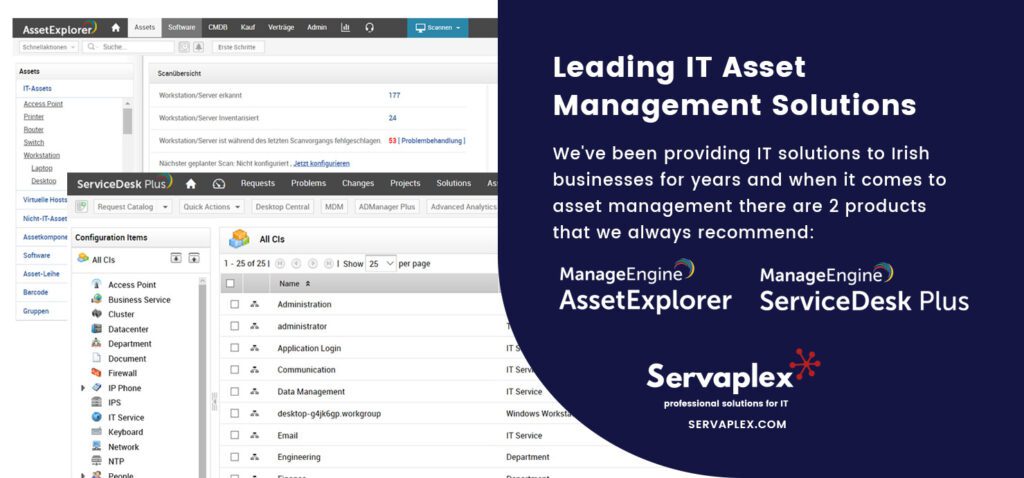 Leading IT Asset Management Solutions
So, now you know the big risks associated with IT Asset Management but what about ways to mitigate them? We've been providing IT solutions to Irish businesses for years and when it comes to asset management there are 2 products that we always recommend, AssetExplorer and ServiceDesk Plus:
AssetExplorer provides you with several ways to ensure discovery of all the assets in your network. You can manage software & hardware assets, ensure software license compliance and track purchase orders & contracts – the whole nine yards! AssetExplorer is very easy to install and works right out of the box.
ServiceDesk Plus is a game changer in turning IT teams from daily firefighting to delivering awesome customer service. It provides great visibility and central control in dealing with IT issues to ensure that businesses suffer no downtime.
Avoid ITAM Risk
We hope the above article has clearly outlined the 5 key risks you'll face when it comes to IT Asset Management but if you have any doubts about your internal processes when it comes to ITAM then contact us. We have decades of experience in the field and will be able to do an initial audit and help you and your business put processes in place for robust IT Asset Management. Don't take the risk and make sure to keep your IT asset management under control. If you've any doubts about your IT asset management then get in touch with us today.
If you have an IT Problem then we've got the IT Solution, call us on +353-1-2304242 or contact us online for more info!