Do you know what a Managed Service Provider (MSP) is or have you considered using one for your business? In this post we'll outline the benefits of using an MSP in the Irish context so you have the info you need to determine if a Managed Service Provider is right for you.
What is an MSP?
Before determining if an MSP is for you we first have to define what is an MSP. A managed service provider, or MSP, is an external service in charge of overseeing and managing a certain service. In this instance, we're referring to IT MSPs. A wide variety of IT-related solutions, including routine IT assistance like help desk, cybersecurity, digital transformation, and everything in between, may be handled by IT MSPs.
MSPs can be involved in your company's IT as little or as much as your company wants, irrespective of whether you require a whole IT team to support your organization or simply a certain service.
What are the Benefits of Managed Service Providers?
The benefit of MSP's are endless but based on various organisational needs we have listed the 5 most crucial ones.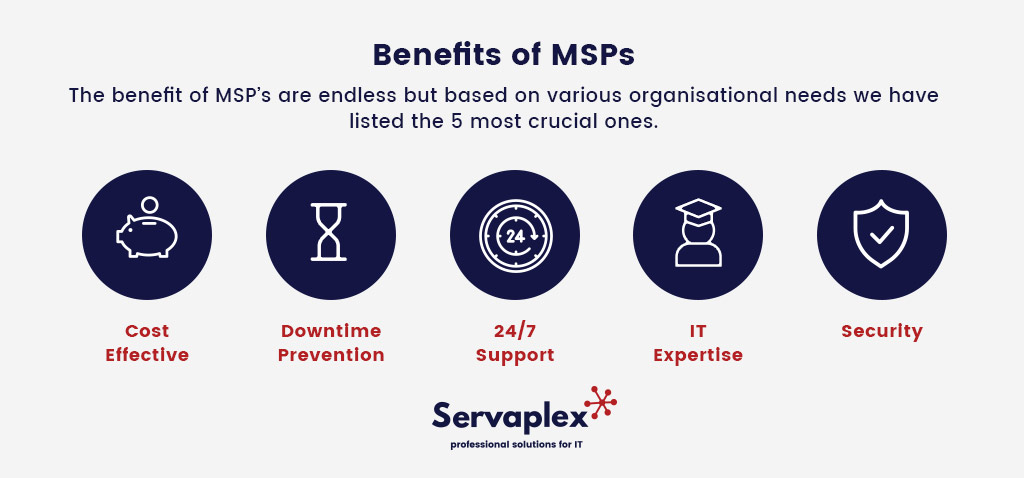 Cost-effective MSPs
First and foremost MSPs can help firms make significant savings, which is an obvious benefit for business owners and finance directors. MSPs can lower the high initial investment required to develop an IT infrastructure. This is especially advantageous for new companies and smaller firms.
Secondly, using an MSP almost eliminates the expense of hiring new employees. You will (typically) pay a single fixed cost that covers all the professionals you could require, as opposed to hiring a team of IT support personnel or engineers yourself. For an additional expense, but much more affordable than paying the yearly salary of an internal IT director, MSPs may also provide the service of a virtual IT director.
Predict and Prevent Downtime
You can count on your MSPs to work in the background of your regular business operations, which will significantly reduce expensive downtime, whether your company is moving location, implementing new software or hardware updates, transforming your digital environment, or experiencing a cyber-attack.
24/7/365 Supervision and Assistance
Most MSPs provide monitoring and assistance 365 days a year. Because bad actors know there will be fewer people around or working who will detect the attack during holiday periods many cyberattacks tend to take place around then, like Christmas or New Years. Few organisations are able to monitor their IT 24 hours a day or have IT staff accessible for help on call, thus this service is quite valuable.
Managed Service Provider Expertise
You can benefit from a big IT team's extensive expertise and experience when working with an MSP. It is rare that your MSP will run across a problem that they haven't before encountered and be able to resolve promptly and efficiently because of the nature of an MSP having several clients.
Security
There is never too much cybersecurity for a corporation. Every day, new threats emerge that are increasingly complex and difficult for security systems to recognise. MSPs will be informed about the most recent security concerns, enabling them to proactively find solutions for your companies before an issue happens. Additionally, your MSP will have access to the greatest security suppliers as well as the newest security solutions.
In order to expand visibility throughout the IT infrastructure and identify gaps that need to be prioritised and fixed, your selected MSP may carry out security audits and vulnerability.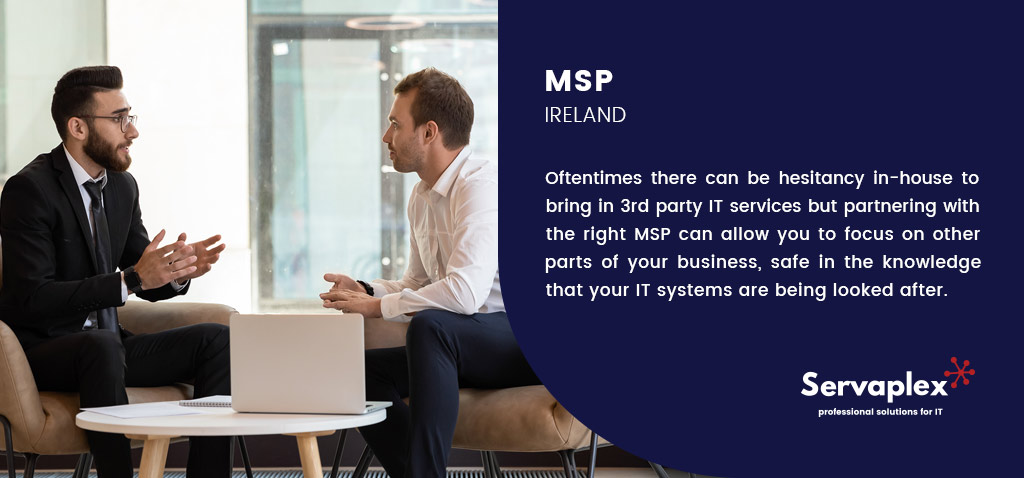 MSP ABCs
Now that we've gone over the ABCs of MSPs we hope that you've a better idea of the services they provide, and moreover, the benefits of using an MSP. Oftentimes there can be hesitancy in-house to bring in 3rd party IT services but partnering with the right MSP can allow you to focus on other parts of your business, safe in the knowledge that your IT systems are being looked after.
If you have an IT Problem then we've got the IT Solution, call us on +353-1-2304242 or contact us online for more info!