In this post we'll give you the definitive overview to Endpoint Central from ManageEngine. Endpoint Central has been described as:
"The all-in-one software which gets all your work done seamlessly"
and there's a lot of truth in that statement. Read on to learn about EndPoint Central, how to use and why you should.
Why Endpoint Central?
Get all your personalised endpoint configuration and management right into a single console. EndPoint Central covers your endpoint management and security in a single shell. Some of the features of EndPoint Central that make it a must have piece of software are:
Automated patch management
Software deployment
Real-time asset management
Remote system management
OS imaging and deployment
Modern management
Mobile device management
Configurations management
Analytics and reporting
Furthermore, Endpoint Central automates all these items from start to finish helping you to cut down on IT infrastructure spend.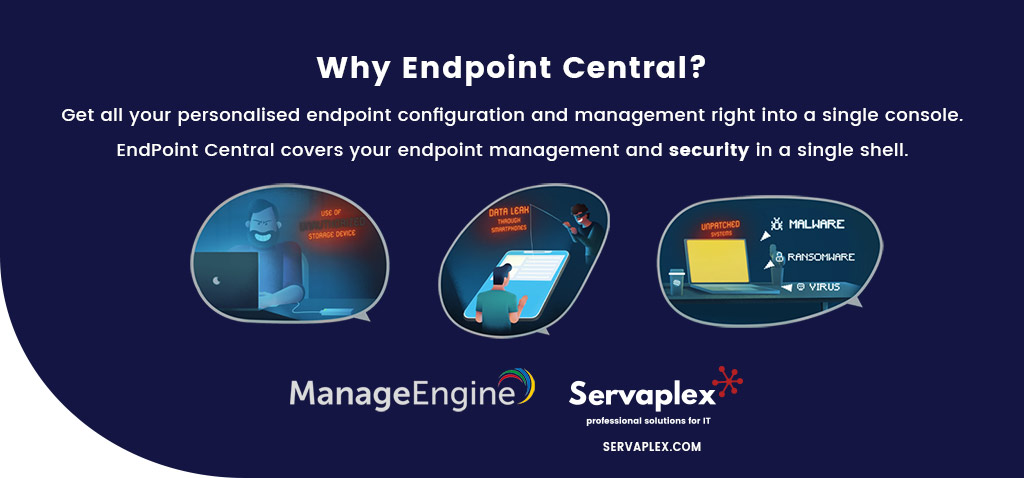 Endpoint Central Requirements
To be able to run Endpoint Central you just need to have the following requirements:
Make sure you have a supported OS
A browsers that is compatible with Endpoint Central
Hardware requirements for installing and running the product
How To Install Endpoint Central
Endpoint Central is delivered in the EXE application format which makes it quick and easy to install. Just run the application file with and follow the instructions provided to guide you through the installation process. The installation guide will prompt you and configure the most apt settings for you.
Starting Endpoint Central
The following methods can be used to boot up Endpoint Central:
Select Start -> Programs -> ManageEngine Desktop Central -> Start Desktop Central
In the notification area of the task bar -> Right click on -> ManageEngine Desktop Central icon -> Start Service
Run services.msc -> Right click on -> ManageEngine Desktop Central Server -> Start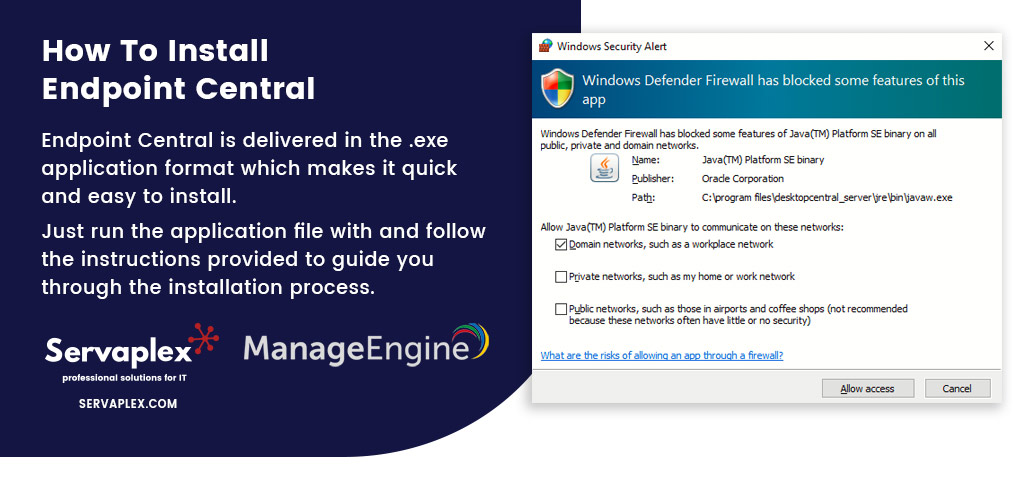 Launching the Endpoint Central Client
Open a web browser and type http://hostname:8020 in the address bar. Here the hostname refers to the DNS name of the machine where Endpoint Central is running.
Specify the username and password as admin in the respective fields and click Login.
Procedures at Initial Login
The items you'll have to do when you login to Endpoint Central for the first time are:
Define the scope of management
Define and apply configurations to either users or computers
Setup Patch Management Module
Setup Software Deployment Module
Setup Inventory Management
Terminating Endpoint Central
To terminate the product, select Start -> Programs -> ManageEngine Desktop Central -> Stop Desktop Central
Understanding Endpoint Central Client UI
Endpoint Central client is designed in a way to be more interactive and to present a clean well organised structure to help you improve the efficiency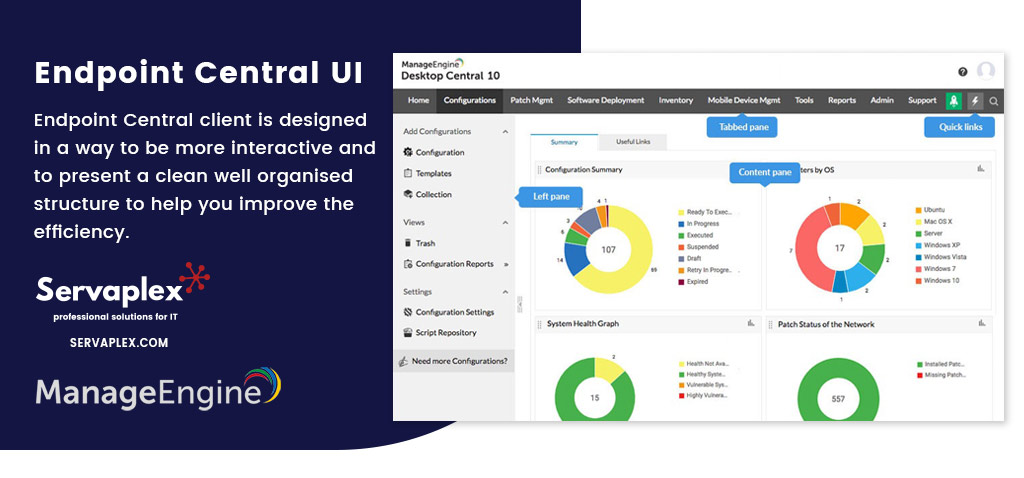 Endpoint Central Features
Tabbed Pane: Provides you with easy navigation
Quick Links: Navigate through the most frequently used pages
Left Pane: left pane enables navigation across the various features in the tab
Endpoint Central Licensing
Endpoint Central is available in four variants:
UEM Edition
Enterprise Edition
Professional Edition
Free Edition
During the evaluation phase, UEM Edition will be installed and the product can be evaluated for 30 days. After 30 days, it automatically gets converted to Free Edition, until or unless license is upgraded
For purchasing a license or for any pricing related queries, please contact sales@servaplex.com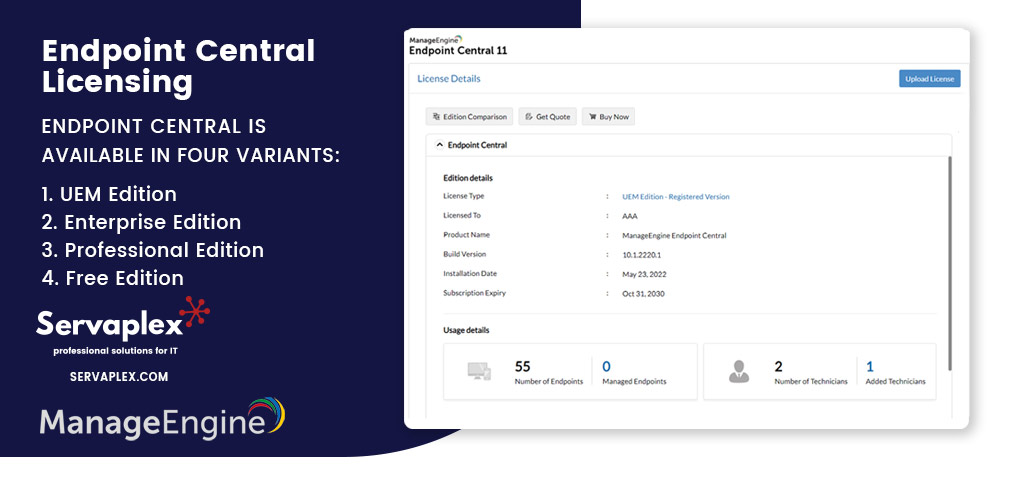 Setting Up Endpoint Central
Once you have completed the installation the admin then has to setup Endpoint Central based on your requirements.
That involves both the basic and feature setup.
Basic setup
Local office management
Remote office management
Roaming users management
Endpoint Central in a DMZ
Endpoint Central in AWS
Endpoint Central in Azure
Mac management
Linux management
Feature-level setup
Setting up Patch Management
Setting up Software Deployment
Setting up Asset Management
Configuring Endpoint Central
To make it easier to understand the config there are 3 fundamental elements to the Endpoint Central to consider:
General Settings: holds the basic settings irrespective of the features utilized.
Feature-specific Settings: Draw a clear line between various features offered by Endpoint Central by configuring settings pertaining to specific features.
Value-added Settings: Enjoy the additional perks of using Endpoint Central by configuring settings that augment the value of endpoint management.
Endpoint Central Features
Endpoint Central contains a suite of useful features that make it one of the go to pieces of software for endpoint management:
Patch Management
Software Deployment
Advanced Remote Control
Configurations
Tools
Reports
Integrations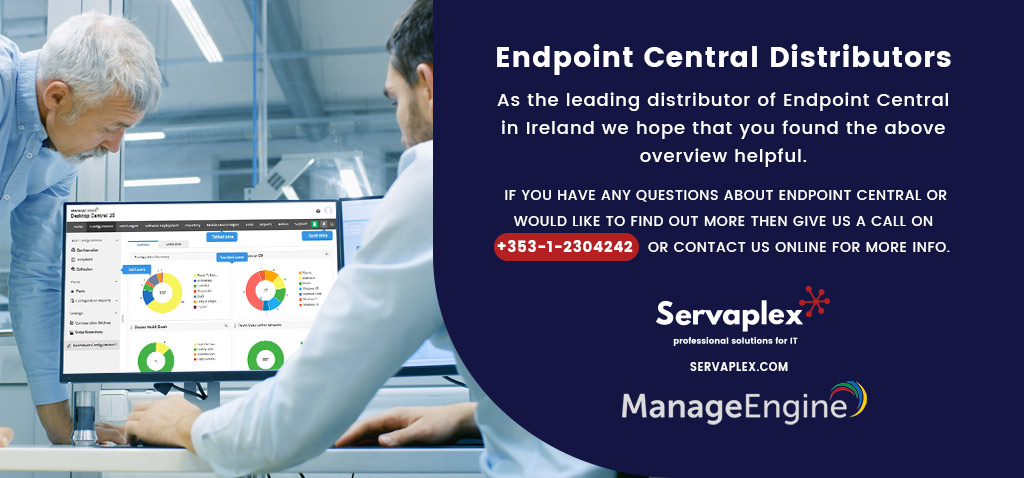 Endpoint Central Partner – Ireland
As the Irish ManageEngine Partner, we hope that you found the above overview helpful. If you have any questions about Endpoint Central or would like to find out more then give us a call on +353-1-2304242 or contact us online for more info.
If you have an IT Problem then we've got the IT Solution, call us on +353-1-2304242 or contact us online for more info!