The month of May was a busy one for the Servaplex team! The team attended DTS for the first time and Aoife travelled over to London for SITS 2023. In this post we'll have a quick look back on the month that was May 2023.
London for SITS
Aoife made a quick flying visit to London for the annual SITS show. And what is SITS we hear you ask? SITS, The Service Desk & IT Support Show, is Europe's leading Exhibition and Conference for ITSM professionals and was held on the 10th – 11th May 2023 in ExCeL London.
Aoife caught up with the UK Partners Set3, some of the ManageEngine team and the UK distributor Climb.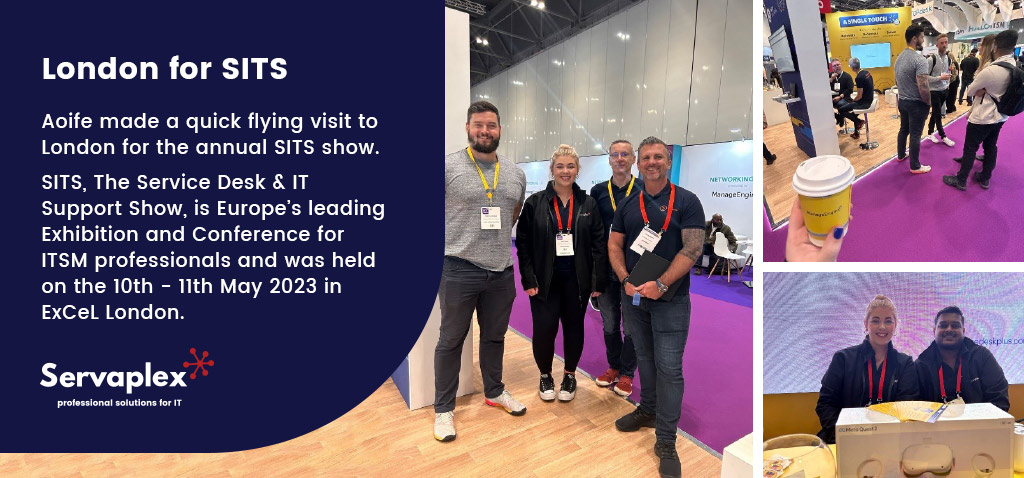 Dublin Tech Summit
Tim, Gerry, Felipe and Sarneek attended the DTS in the RDS. What is DTS? The Dublin Tech Summit is an international technology conference held in Dublin, Ireland. The first summit took place on 15 and 16 February 2017, at the Convention Centre Dublin in the city's Silicon Docks area. Irish telecom firm Eir was a founding partner of the Dublin Tech Summit and a lead sponsor. They attended the two days and had a massive giveaway that was a great success.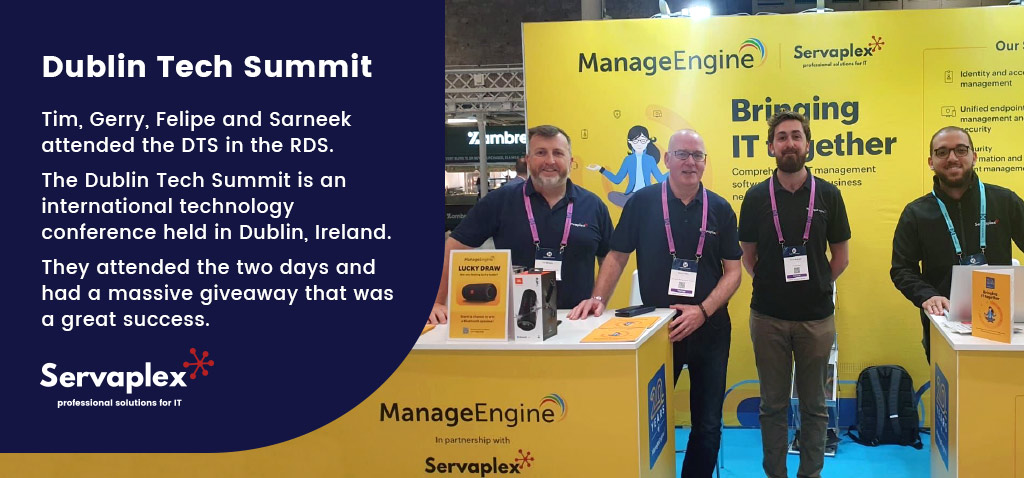 Product Updates
EndPoint Central: A new Endpoint Central edition called the 'Security Edition' is all set to be released in the coming weeks. By default, this edition holds all features of UEM Edition bundled with security features. It will be the highest and most advanced edition of Endpoint Central. This introduction has been made as an effort to declutter the purchase process. Currently only available for new customers but will be available for existing ones soon.
AD360 Wins at the 11th Global InfoSec Awards: The 11th annual Global InfoSec Awards, held at the RSA Conference 2023 in San Francisco, brought together over 4,300 companies vying for recognition in various categories. Among the standout performers, ManageEngine's AD360 won prestigious accolades in four categories.
New in ADSelfService Plus: Offline MFA support and other enhancements as well as offline MFA protection for the remote workforce. Windows machine logons, RDP machine logons, and User Account Control (UAC) elevation prompts that require credentials for privileged actions can now be secured using MFA even when users lack internet connectivity or are not connected to the corporate network.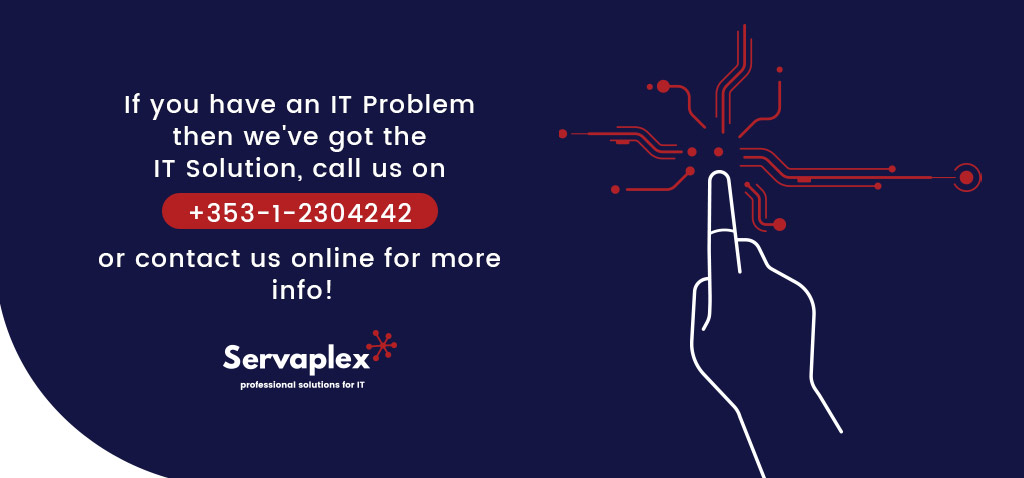 Upcoming Servaplex Events
The above is just a quick recap of what happened for Servaplex for May and the schedule is already filling up for future months. Keep an eye on our events page for more info.
If you have an IT Problem then we've got the IT Solution, call us on +353-1-2304242 or contact us online for more info!