What is OpManager?
OpManager is a popular network monitoring and management software solution that has been widely adopted by IT professionals for over 15 years. It offers a comprehensive range of features, including network monitoring, fault management, and performance analysis.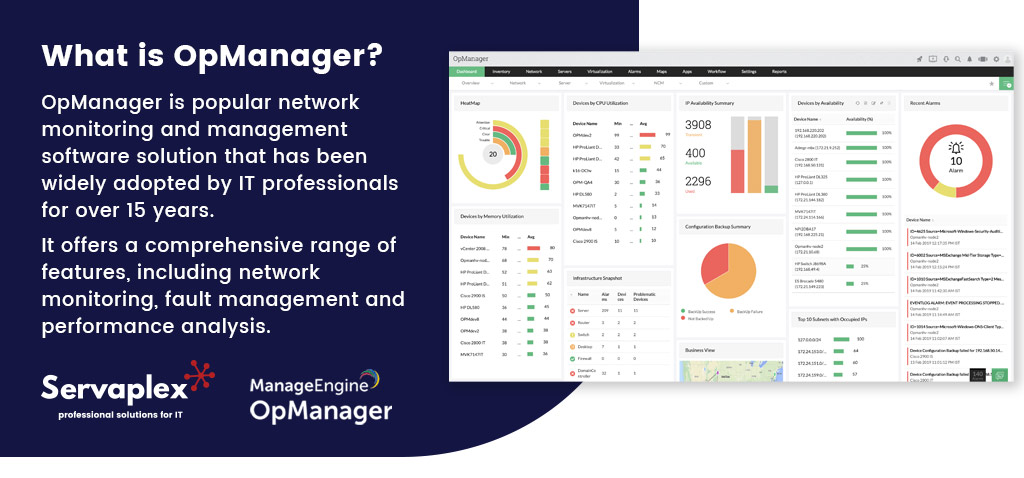 Why OpManager Over Others?
OpManager provides extensive visibility into the performance of various network components such as routers, switches, firewalls, load balancers, wireless LAN controllers, servers, virtual machines, printers, and storage devices. It is designed to be user-friendly and cost-effective, enabling users to identify and resolve issues at or near their source. Most IT departments use a variety of network monitoring tools to monitor and manage network operations. However, if an error occurs, they must use a variety of tools, GUIs, charts, and reports to get to the source of the problem.
ManageEngine OpManager is an integrated network management software that provides real-time network monitoring and provides detailed insights into various problematic areas of the network. It also allows you to easily determine the cause of network problems and fix them swiftly.
Which OpManager Edition is Best for You?
Since Op Manager is a well-developed and highly scalable software, it allows you to choose from three editions that provides features that you require. It's also flexible at the same time in terms of future upgrades if necessary. Figure out which one you need right now and upgrade it whenever you want.
Available Editions:
Standard
Professional
Enterprise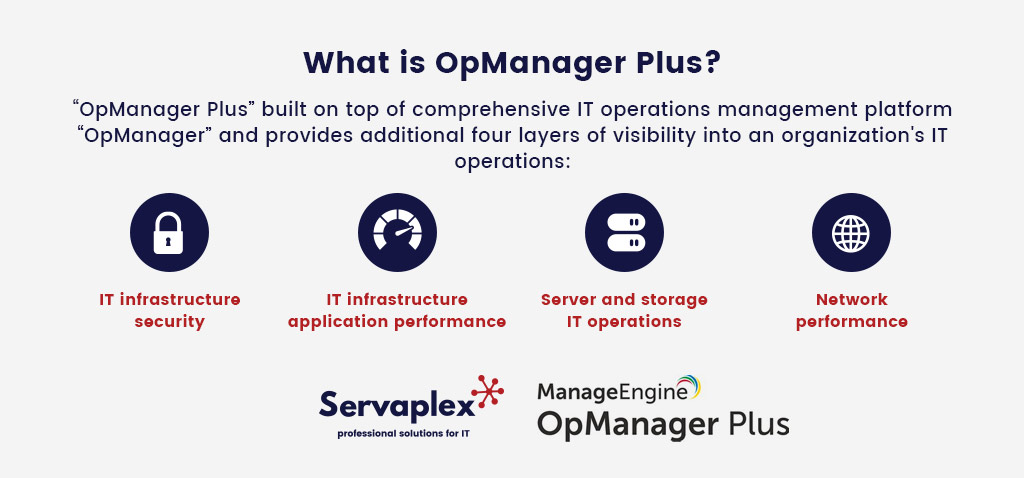 What is OpManager Plus?
Why not be more cautious with your Complex Network when you can? As they say prevention is better than cure and that holds true with your IT network.
"OpManager Plus" built on top of comprehensive IT operations management platform "OpManager" we discussed earlier, and provides additional four layers of visibility into an organization's IT operations: IT infrastructure security, IT infrastructure application performance, server and storage IT operations, and network performance.
"Gain visibility into your IT operations, layer by layer "
This multi-level visibility into IT operations enables IT administrators to easily identify and troubleshoot faults at various levels, resulting in improved SLA compliance, proactive IT fault management, improved customer service, and consistent IT infrastructure performance.
What is this OpManager Plus all about?
OpManager Plus is an integrated solution that streamlines the process of IT operations management by eliminating the need for multiple monitoring tools. It is packed with out-of-the-box capabilities, this all-in-one solution improves visibility throughout your IT infrastructure. By implementing this powerful, integrated solution with a unified approach to IT operations management (ITOM), you can eliminate operational bottlenecks, enhance performance, and get the most out of your IT infrastructure.
Which edition is best for you?
Do you want to monitor your distributed infrastructure? There are two editions to pick from: professional and enterprise.
However, it is dependent on what your business needs, so why not? Speak with our team of pros to sit down and discuss and share ideas with them to determine which one is best for you.
What is OpUtils?
The OpUtils add-on enables centralized control of IP address space and switch ports, this switch port management application assists with network monitoring activities such as identifying rogue device infiltration, monitoring bandwidth utilization, monitoring availability of essential devices. OpUtils supplements existing management solutions by enabling troubleshooting and real-time monitoring. It makes life simple for network engineers to manage their switches and IP address space.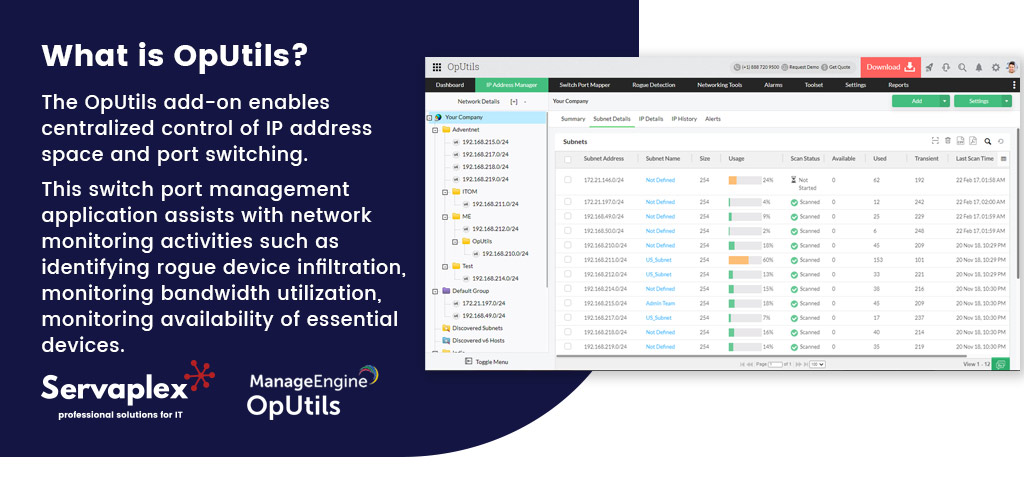 Why Use OpUtils with Existing Monitoring Applications?
While OpManager only monitors the performance of your network devices, the OpUtils add-on enhances it by helping network administrators to discover, diagnose, and fix network issues swifter. Combining the OpUtils add-on with OpManager drastically simplifies traditional and mundane network management processes while allowing for increased network performance monitoring from a single pane.
OpManager Vs OpManager Plus Vs OpUtilsSummary
1. OpManager
OpManager is fundamental application used for monitoring and managing networks. OpManager is suitable for organizations looking for essential network monitoring and management capabilities. It's ideal for small to medium-sized networks and provides the fundamental tools needed to ensure network reliability and performance. Features OpManager offers include core network monitoring and management features, device discovery, fault management, performance monitoring, basic configuration management, and customizable alerting.
2. OpManager Plus
A more sophisticated OpManager application
OpManager Plus is appropriate for bigger and more sophisticated network settings that need extensive monitoring, analysis, and management capabilities. It is intended to satisfy the demands of companies with a focus on network performance and security, and the key reason for the popularity and wise feature is the application's scalability in accordance with network requirements.
3. OpUtils
OpUtils is a standalone network management utility package that covers IP address management, switch port mapping, subnet scanning, network monitoring, and other network management applications.
The key advantage of OPUtils is its capacity to provide a set of utilities to speed typical network-related tasks and increase network efficiency, which minimizes network administrator's burden.
A notable feature of OPUtils is the ability to combine various benefits from across the universe into one, in another words ability to integrate "OpUtils" with "OpManager." This integration enables more sophisticated analysis and provides comprehensive details, thereby simplifying network-related tasks for your organizations.
OpManager Experts
Regardless of which flavour of OpManager you and your business need we have decades of experience in providing robust network monitoring solutions to businesses of all sizes.
If you have an IT Problem then we've got the IT Solution, call us on +353-1-2304242 or contact us online for more info!