You are cordially invited to our workshop in October 2023 by Servaplex. Please join us at the Clayton Hotel Cardiff Lane for our ServiceDesk Plus Workshop, which will feature in-depth training sessions on all significant ITSM principles.
The ServiceDesk Plus Workshop
Join us at the ServiceDesk Plus Workshop for comprehensive training sessions on all essential ITSM practices. Designed to enhance your knowledge and experience with ServiceDesk Plus, this workshop offers two separate tracks for the on-premises and cloud versions. Attendees will have the unique opportunity to engage in five specialized training sessions led by our team of product experts. Don't miss out on this valuable event!
ServiceDesk Plus Dublin 2023 Workshop Agenda
08:30am – 09:00am Registrations and Breakfast
09:00am – 10:15am Getting started with ServiceDesk Plus
10:15am – 10:30am Coffee break
10:30am – 11:45am A deep dive into incident and service request templates and life cycles
11:45am – 12:30pm Extending proven ITSM best practices beyond IT
12:30pm – 01:15pm Lunch
01:15pm – 02:45pm Handling hardware and software asset management
02:45pm – 03:00pm Coffee break
03:00pm – 04:00pm Adopting advanced ITSM practices: Change management and the CMDB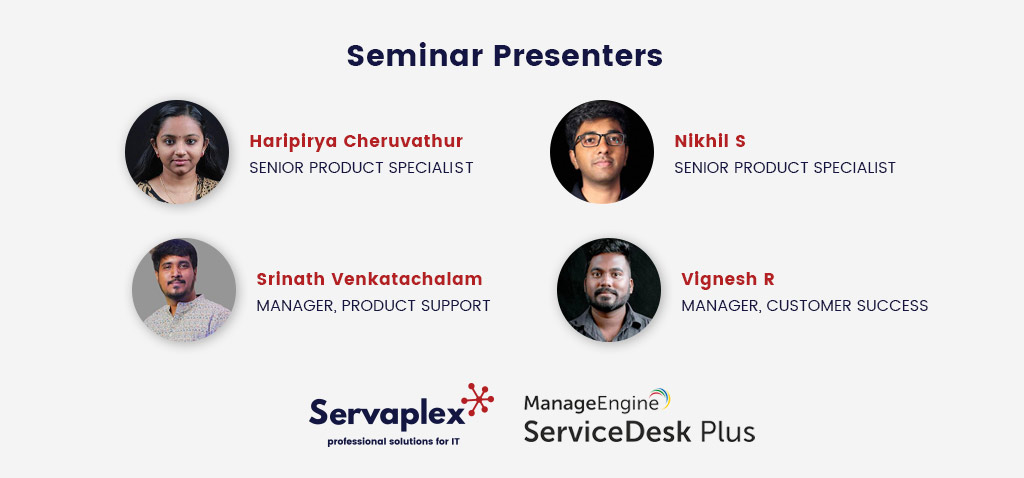 Seminar Presenters
Haripirya Cheruvathur, Senior Product Specialist
Haripirya has been working in the ITSM industry for more than five years. She specializes in assisting customers in implementing solutions based on industry best practices and resolving their IT challenges. She finds great satisfaction in being a member of our support operations team, where she has the opportunity to engage with customers and tackle complex IT issues.
Nikhil S, Senior Product Specialist
During his five-year tenure at ManageEngine, Nikhil has played a pivotal role in training and assisting customers across the globe in successfully implementing ITSM practices on the cloud-based version of ServiceDesk Plus, our comprehensive service management solution. With his enthusiasm for sharing knowledge, Nikhil has delivered engaging presentations in numerous webinars and has become a sought-after speaker at various events, including the esteemed ManageEngine User Conferences.
Srinath Venkatachalam, Manager, Product Support
Srinath possesses nearly a decade of expertise in the ITSM sector and has successfully assisted clients worldwide in implementing top-notch ITSM methodologies. Presently, he oversees global support teams that are committed to improving customer satisfaction, boosting team productivity, and streamlining support operations.
Vignesh R, Manager, Customer Success
Vignesh has accumulated ten years of experience in the ITSM industry. He possesses a deep understanding of client infrastructure and service management processes, enabling him to implement solutions in alignment with industry best practices. Vignesh currently oversees Customer Success for the United Kingdom region at ServiceDesk Plus.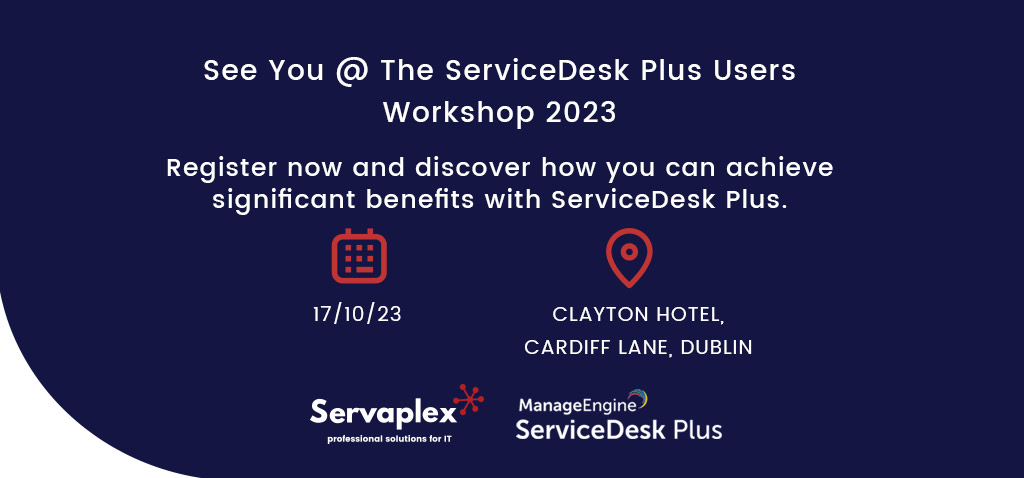 See You @ The ServiceDesk Plus Users Workshop 2023
Register now and discover how you can achieve significant benefits with ServiceDesk Plus:
Increase product utilization and achieve an impressive return on investment of up to 352% with ServiceDesk Plus.
Streamline your processes with the robust automations of ServiceDesk Plus, reducing the time taken by technicians for each incident ticket by 10 minutes and each service request ticket by six minutes.
Improve efficiency by reducing the time requesters need to generate tickets by six minutes per ticket, thanks to our inclusive self-service portal and personalized ticket templates.
Enhance change management with powerful change workflows, resulting in a savings of three hours per managed IT change using ServiceDesk Plus.
Simplify IT asset management and save an entire 24 hours per IT asset audit with the integrated asset management module in ServiceDesk Plus.
Don't miss out on these valuable benefits – register now!
If you have an IT Problem then we've got the IT Solution, call us on +353-1-2304242 or contact us online for more info!