Having recently discussed the biggest risks associated with ITAM (IT Asset Management) in this article we'll give you an overview on Cloud Based IT Asset Management in an Irish context.
Cloud Based IT Asset Management – Ireland's Most Popular
The most successful and versatile ITAM over the years in Ireland have been:
AssetExplorer
Netsupport-DNA
Servicedesk-Plus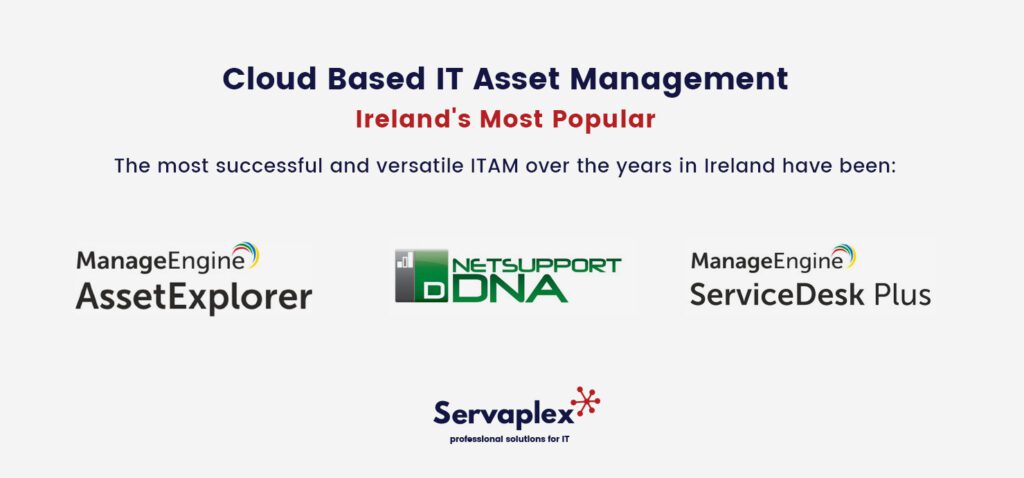 ITAM Concerns for Irish Businesses
In the digital age, businesses are having to manage and track more assets than ever before. With multiple devices flooding the workplace, increasingly complex cloud technologies, licensed-based software, and more frequent updates, the management and tracking of IT assets has become much more complicated. Also, more frequent employee turnover raises data security issues.
The cost of underutilized, mismanaged, or misplaced assets can put a severe dent in a company's bottom line. For example, according to Deloitte, companies can end up spending twice as much as they need to on their software assets because they don't have an accurate picture of their software landscape.
A Holistic View of IT Assets
Cloud Based IT Asset management software (ITAM) provides a holistic view of an asset's lifecycle, from its procurement and implementation through its renewal and disposal. While a business could use a simple spreadsheet to track its assets, using ITAM allows it to analyze data specific to each asset, enabling it to make more informed decisions about managing its assets.
Best Asset Management Software
With its mature toolkit and abundance of advanced features, including top-notch reporting, unique relationship maps, and support for both physical and virtual assets, ManageEngine AssetExplorer is our choice as the best overall asset management software.
AssetExplorer Pros
Feature-rich toolset with mature technology
Easy setup
Reasonably priced
Familiar Windows-style user interface
AssetExplorer Cons
No mobile application
Not for small businesses with limited IT staff
ManageEngine AssetExplorer Overview
ManageEngine AssetExplorer is a web-based solution packed full of tools and features to handle all aspects of asset management, including inventory management, software license administration, compliance review, and more. With its mature technology, ease of setup, and reasonable price, ManageEngine AssetExplorer is our choice as the best overall asset management software.
For businesses new to asset management, ManageEngine AssetExplorer's feature-rich toolset may seem a bit overwhelming. However, if you start with its 30-day free trial, you can shorten the learning curve. The setup can appear incredibly daunting with the excessive number of tabs and drop-down menus. But ManageEngine AssetExplorer includes an excellent Quick Links feature to help you stay focused on the tasks you need to complete.
It also helps that the interface has a Windows look and feel. Adding devices can also seem daunting due to the sheer number of choices. But the Windows Agent Configuration simplifies the process when using installed Windows Agents on new devices.
ManageEngine AssetExplorer's mature technology shines through with its reporting capability. In addition to a few dozen pre-built reports, the system can export reports in multiple formats to include all past queries. You can also easily create completely customized reports. In addition to scheduling reports to run, they can be scheduled for email delivery to specific recipients.
A significant downside to ManageEngine AssetExplorer is the lack of a mobile application. While the program can be accessed on a mobile browser, its somewhat complicated user interface (UI) can make navigating on mobile devices more difficult. It's okay for more straightforward tasks, such as handling repair tickets and troubleshooting on the road.
All ManageEngine AssetExplorer users have access to 24/7 technical support, which is another essential feature to prefer over others. Its support for virtual hosts and virtual machines is also a rarity. The only downside is there is no support if you're managing a lot of mobile devices, though there is support for voice-over-IP (VOIP) phones.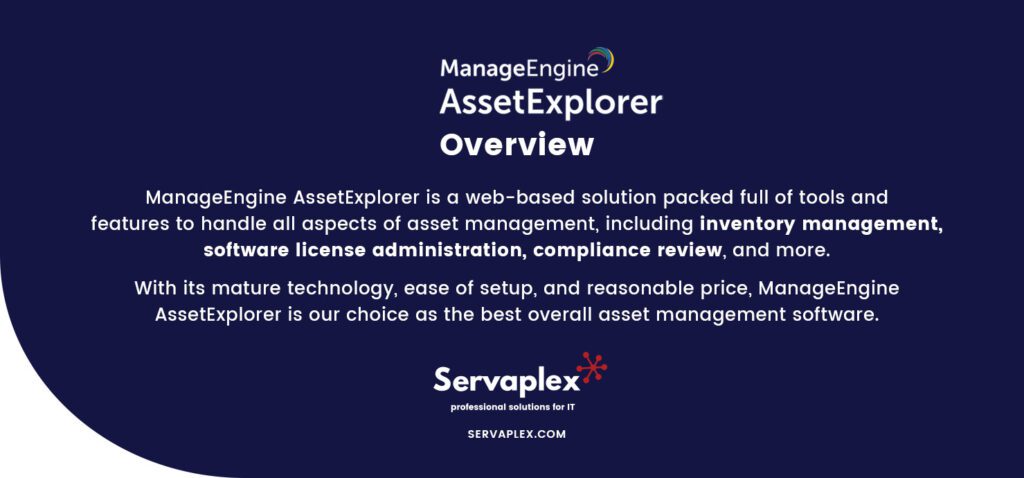 Average Pricing for Irish Businesses for Cloud ITAM
Pricing for Cloud based IT asset management software varies depending on the features offered and the pricing method. Some ITAM providers base their pricing on the number of users, while others base it on the number of assets or a combination of the two. Some providers charge a flat annual fee based on a range of users and assets. So, it isn't easy to compare pricing unless you know precisely what you are looking for in an ITAM system.
At one end of the pricing spectrum, a smaller business can pay $6 per communication endpoint or workstation per year per 250 endpoints, or $1,500. A larger enterprise would pay $6,000 for 1,000 workstations. Some providers charge for add-on features such as remote access and a backup system, while others include them as standard features.
Quick Wins for Cloud ITAM
Choosing the right IT asset management software can be daunting. There are many moving parts within an ITAM program and they can can vary widely in their feature sets and pricing. Your challenge begins with having to choose from more than two dozen ITAM providers.
To narrow your choices to the best ITAM program, we considered several key factors, including ease of setup, ease of operation, standard features, mobile capabilities, reporting, and pricing. Ultimately, choosing the right ITAM program should be based on these key factors and, more importantly, whether the program applications are suitable for your specific business needs.
Tailored Cloud Based ITAM Solutions
Servaplex offers the above products and will tailor them to work best for your company.
ManageEngine AssetExplorer is a web-based IT Asset Management (ITAM) software that helps you monitor and manage assets in your network from Planning phase to Disposal phase.
A suite of easy-to-use tools for managing and supporting IT assets across a corporate network. As the use of technology increases in enterprises, NetSupport DNA provides the complete solution to help support the management and maintenance of IT assets, whilst supporting its users – all from a central point.
ServiceDesk Plus is a game changer in turning IT teams from daily firefighting to delivering awesome customer service. It provides great visibility and central control in dealing with IT issues to ensure that businesses suffer no downtime.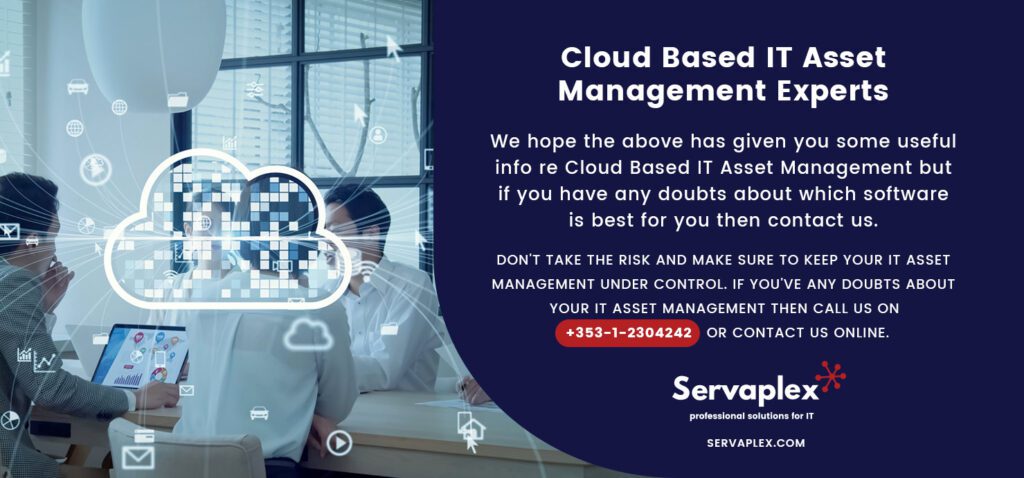 Cloud Based IT Asset Management Experts
We hope the above article has given you some useful info re Cloud Based IT Asset Management but if you have any doubts about which software is best for you then contact us. We have decades of experience in the field and will be able to do an initial audit and help you and your business put processes in place for robust IT Asset Management. Don't take the risk and make sure to keep your IT asset management under control. If you've any doubts about your IT asset management then get in touch with us today.
If you have an IT Problem then we've got the IT Solution, call us on +353-1-2304242 or contact us online for more info!